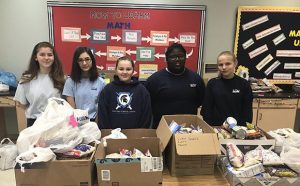 Saint Paul Catholic School (SPCS) students have been busy for the past month as they collected food for those in their community. The students were charged with collecting as many pounds of rice and beans as they could muster, and at last count had a stockpile ready to donate of over 500 pounds.
The food drive, organized by the SPCS Student Council, was largely headed up by 7th and 8th grade students. The students in grades Pre-K 3 through 8th grade were asked to bring in 1 pound bags of dry rice or beans to represent their specific class in the collection challenge. Each morning Student Council members would then go classroom to classroom collecting the donated items.
"I think especially the younger children have learned to be more generous and to demonstrate mercy to those in need," said 8th grade SPCS student Maria Delaney
The students collected donations through December 19 and delivered the items to RCS (Religious Community Services) before the Christmas Holiday.
Submitted by: Jane Maulucci, The Reactive Voice, LLC