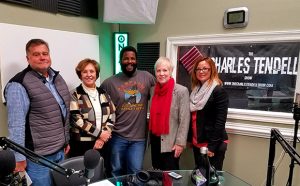 Episode 106
Find out the latest "positive" news and information about our beautiful and happening town of New Bern and Beyond. Beyond, meaning our travels throughout Eastern North Carolina!
During this show, New Bern Now's Podsquad: Rich Sheridan (Crystal Coast Discovery Map), Susan Moffat-Thomas, Kathy Morrison (New Bern Historical Society), Colleen Roberts (City of New Bern),Charles Tendell (Charles Tendell Show), and I talked about the latest happening in our community on location in the Charles Tendell Studio located inside the O'Marks Bldg., 233 Middle Street Suite 107 in Downtown New Bern!
We were joined by Jacqueline Wu (Small Business Administration), Angela Bryd (FEMA), and Lacey Smith (Christ Episcopal Church).
This podcast is brought to you by our friends at A Dog's Dream Boutique, Resort, and Day Spa! They offer boarding, daycare, grooming, in-home pet sitting, training, heated pool, and airport pickup. Visit them at 1819 Racetrack Rd., call 252-514-2502, or check out ADogsDreamNC.com!
Listen here:

Show notes:
00:40 – Catching up with The Podsquad
3:36 – Magnolia Jane Salon's Angel Tree
5:35 – Bear City Fudge and Simply Natural Creamery Ice Cream
8:41 – Masquerade: A Candlelight Christmas Celebration
10:00 – Living Well Down East
10:17 – Community Artists Studio and Gallery
11:50 – City of New Bern presents the first ever New Year's Eve Block Party
13:56 – Toyota of New Bern
15:05 – Interview with Jacqueline Wu (Small Business Administration) and Angela Bryd (FEMA)
23:13 – Interview with Lacey Smith about the 20th Annual Christ Church Cookie Walk
28:15 – Foscue Plantation
29:12 – Make your own Christmas Gifts (Wine and Design, The Accidental Artist, The Craft Studio, and New Bern Arts and Wellness Center)
30:44 – Gingerbread House Tour
33:02 – Live Window Display
Staytrippin'
34:45 – Poetry Open Mic Night
35:48 – Discovering Tryon Palace: Holiday Décor
36:09 – Jingle Bell Trot and Canterbury Road Christmas Light Display
37:17 – Craven Community Chorus presents "Can't Wait for Christmas"
37:39 – The Nutcracker Ballet
38:09 – Disney's Beauty and The Beast
38:31– Craven Smart Start's 6th Annual Holiday Hustle
38:44 – The Holly and The Ivy" Holiday Homes Tour
39:24 – The Pamlico Flutes present Christmas Concert
39:39 – Live Music with Tiffany Elaine and Friends
40:33 – Carolina Coastal Railroad Club
40:55 – Pull for Hope – Fire Truck Pull
42:02 – Sledding Shopping Sunday
42:19 – Performance of George Frideric Handel's Messiah
43:09 – Traditional Irish Music Session
44:26 – North Carolina Symphony presents "Holiday Pops"
44:44 – Discovering Tryon Palace: Holiday Décor
44:58 – Christmas Concert Special with Bryan Mayer
45:19 – ArtWalk – New Bern
45:32 – ARTcrawl presented by the Greater Good Gallery
45:45 – Uncorked – A Wine Tasting
46:00 – Dayton Vesper Piano Concert
46:15 – New Bern Home and Holiday Gift Show
46:40 – Pancakes for PIE
47:05 – National Wreaths Across America Day
47:40 – Havelock Christmas Parade
48:09 – Live Entertainment and Music, check out the happenings at the City Stage by visiting CityStageNewBern.com or visit NCMZ.live
48:35 – Daytrippin'
– Atlantic Beach Christmas Parade
– Morehead City Parade
– Beaufort Holiday Artwalk
– Historic Beaufort Candlelight Homes Tour
– Pine Knoll Shores Flotilla
– NC Aquarium at Pine Knoll Shores
52:17 – New Bern Animal Control
55:15 – New Bern Ledger Magazine – Special Edition 2018
56:36 – The Charles Tendell Studio, New Bern's News Talk Radio Station, and New Bern Live
Special thanks to Mike Afflerbach, owner of New Bern's News Talk Radio Station WNOS 103.9FM and 1450 for airing the Podcast every Wednesday at 8 a.m. and 5 p.m. Also listen to our New Bern Live partners as their shows also air on WNOS – Charles Tendell Show, Men On Radio Offering Nonsensical Solutions (M.O.R.O.N.S.), and City Talk with Sabrina and Lee.
And of course, Let us know if you'd like to join us as a guest on the Podcast or have any questions, comments or suggestions by calling 252-259-6853 or sending us an email at info@newbernnow.com.
Tune into our latest Podcast episodes on our ITunes and Libsyn Channels. You can also listen to the show on New Bern's News Talk Radio Station 103.9FM and 1450AM. Special thanks to Mike Afflerbach, owner of New Bern's NewsTalk Radio Station for airing our Podcast every Wednesday at 8 a.m. and 5 p.m.
We'll be back on December 17, 2018.
Join the New Bern Live Facebook group to learn about all the different citizen media resources that we have in our community and engage in the conversation.
Please let us know if you have any comments, suggestions, or would like to set up an interview and spread the word about a special event or other interesting topic. Send me an email or give me a call at 252-259-6853.
Wendy Card