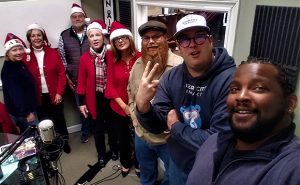 Episode 107
Find out the latest "positive" news and information about our beautiful and happening town of New Bern and Beyond. Beyond, meaning our travels throughout Eastern North Carolina!
During this show, New Bern Now's Podsquad: Rich Sheridan (Crystal Coast Discovery Map), Susan Moffat-Thomas, Kathy Morrison (New Bern Historical Society), Colleen Roberts (City of New Bern), Charles Tendell (Charles Tendell Show), Brad Poirier (Bear City Impact) and I talked about the latest happening in our community on location in the Charles Tendell Studio located inside the O'Marks Bldg., 233 Middle Street Suite 107 in Downtown New Bern!
We were joined by Rob Jones (Brütopia Brewing Company and Tryon Palace), Jacqueline Wu (Small Business Administration), and Angela Bryd (FEMA)
Special thanks to this Podcast episode's Co-Sponsors:
– Lynaire Kennels located at 4634 Old Cherry Point Rd., call 252-633-4333, or check out LynaireKennels.com.
– Michaele' Rose Watson Studio located at 413 Broad St. (behind the Bank of the Arts), call 252-626-0120, or visit her studio's website at MichaeleRose.com.
Listen here:

Show notes:
00:39 – Catching up with the Podsquad
1:30 – Lynaire Kennels
3:21 – Interview with Rob Jones about the Introduction to Home Brewing Class at Craven Community College
11:44 – Brad does The Bear City Beat as a Contributor for New Bern Now
13:07 – Interview with Jacqueline Wu (SBA) and Angela Byrd (FEMA)
20:08 – Update on Multiple Purpose Art Facility in Scottish Rite Building
24:03 – Water Resources Facility
28:23 – Holiday Part at The Jarvis
30:02 – New Year's Eve Block Party and Bear Drop
31:06 – New Bern Historical Society thanks everyone who worked on the Gingerbread House Displays
32:36 – John Leys Lunch and Learn: The Story of Ghent
33:02 – Ed Bearrs presentation on "Raising the Cairo" Civil War Ironclad Warship
36:06 – Brad Poirier's Bear City Impact
40:52 – Michaele' Rose Watson Studio
41:55 – Staytrippin'
42:04 – Annual Community Christmas Carol Sing with The Craven Brass
42:19 – Free Classic Christmas Cartoons Showing
42:32 – Around the World in 80 Carols with Simon Spalding
42:48 – 12th Annual Santa Paws on Parade
43:16 – Free Crafts & Music: Clay Ornaments and Hans Werner
42:28 – Sledding Shopping Sunday
44:27 – Walk-In Bathtub Improv Show
44:55 – Masquerade New Year's Eve Party
45:11 – New Year's Eve Party with 3 Day Weekend
45:28 – For Live Entertainment and Music, check out the happenings at the City Stage, visit our friend, Tracey Stones's NC Music Zone at NCMZ.live, and check out Joanne Friedman's New Bern Music Calendar Facebook page.
46:20 – Datyrippin:
– The Natural Side of Fort Macon
– Sunday Bruch Walk about with Hungry Town Tours
– Smoke on the Water
– "Lights on the Neuse"
– Wilson Winter Lights and The Vollis Simpson Whirligig Park and Museum
– Meadow Lights and Old Country Store
51:25 – New Bern Live
52:13 – Young Urban Professionals
54:00 – Ledger Magazine
Listen to our Podcast on NewBernNow.com, subscribe to our iTunes or Libsyn Channels, or tune into New Bern's News Talk Radio Station WNOS 103.9FM and 1450 every Wednesday at 8 a.m. and 5 p.m.
We also encourage y*ou to listen to our New Bern Live partners as their shows also air on WNOS – The Charles Tendell Show, City Talk with Sabrina and Lee, and Men On Radio Offering Non-sensical Solutions (M.O.R.O.N.S).
We'll be back on December 31, 2018!
And of course, let us know if you'd like to join us as a guest on the Podcast or have any questions, comments or suggestions by calling 252-259-6853 or sending us an email at info@newbernnow.com.
Wendy Card