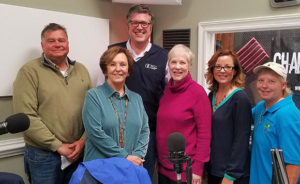 Episode 105
Find out the latest "positive" news and information about our beautiful and happening town of New Bern and Beyond. Beyond, meaning our travels throughout Eastern North Carolina!
During this show, New Bern Now's Podsquad: Rich Sheridan (Crystal Coast Discovery Map), Susan Moffat-Thomas, Kathy Morrison (New Bern Historical Society), Colleen Roberts (City of New Bern), George Oliver (Oliver & Cheek, PLLC), Charles Tendell (Charles Tendell Show), and I talked about all kinds of positive things happening in our community on location in the Charles Tendell Studio located inside the O'Marks Bldg., 233 Middle Street Suite 107 in Downtown New Bern!
We were joined by Shannon Wetherington and Isabella McCarthy.
This Podcast is brought to you by White's Tire Service of New Bern where they will meet your tire and mechanic needs! Visit them at 2813 Neuse Blvd., call 252-633-1170 or find them on Facebook!
Listen here:

Show notes:
1:08 – Catching up with the Podsquad
1:38 – Jay Barnes, Historian, Author and the new President of the NC Aquarium Society
3:56 – Interview with Shannon Wetherington and Isabella McCarthy about the Dream Fairytale Princess Business
10:13 – Hurricane Recovery Resources and Panel and Informational Session "Picking up the Pieces and Preparing for the next 500-year Storm"
14:53 – Deadline to apply for Hazard Mitigation for FEMA Buyout or Elevation Grant
17:03 – Getting through the Holiday Seminar on getting through the Loss after a Hurricane
18:54 – New Bern Civitan Club's Christmas Tree, Wreath and HUBS Peanut Sales
21:26 – Bella's Café and Catering
22:31 – Living Well Down East Natural and Organic Market
24:18 – Persimmons Restaurant has re-opened
23:25 – Gingerbread Houses on Display in Downtown New Bern
30:09 – It's beginning to look a lot like Christmas
31:01 – Toxic Trivia at BrÜtopia Brewery
31:26 – Coastal Women's Forum for Lunch and Networking Meeting
31:42 – 11th Annual Twin Rivers YMCA Turkey Trot 5K and 10K
31:58 –  Santa's Arrival – Light Up the Season
32:32 – Holiday Craft & Vendor Fair
32:39 – Community Christmas Tree Lighting
34:38 – A Family Affair
35:26 – Chamber Music by Candlelight
35:41 – Disney's Beauty and The Beast
36:00 – The Nutcracker Ballet
36:31 – Walk in Bathtub at the City Stage
37:00 – Breakfast with Santa presented by Carolina East Foundation
38:59 – Breakfast with Santa presented by Creekside Recreational Therapy Services
39:27 – A Coastal Carolina Christmas Craft Show
39:45 – Christmas Parade
40:21 – Coastal Christmas Flotilla
40:30 – Sleeping Beauty Bellydance Drama
40:49 – Bed & Breakfasts of New Bern Holiday Open House
41:55 – Events at Tryon Palace and the North Carolina History Center
– African American Heritage Tour
– Behind the Scenes: Conservation Lab
– Discovering Tryon Palace: Holiday Décor,
43:11 – For Live Entertainment and Music, check out the happenings at the City Stage by visiting CityStageNewBern.com or visit NCMZ.live
44:59 – Daytrippin' with the Crystal Coast Discovery Map
– Christmas Flotillas in Beaufort, Morehead City and Swansboro
– Small Business Saturday
– Christmas Artwalk in Morehead City
– Emerald Isle Christmas Parade
– The Embers in Concert
– Hungry Town Tours Holiday Brunch and Walkabout
49:20 – New Bern Farmers Market
49:59 – Craven Community Chorus Christmas Concert
51:07 – Music on WCTI 12 News
51:45 – Winter Coed Basketball League
53:09 – The Holly and The Ivy Holiday Homes Tour
53:56 – Special Edition of New Bern's Ledger Magazine "Stronger Together"
55:25 – Join New Bern Now's Team and/or let us know if you want to join us as a Special Guest
56:24 – Happy Thanksgiving
56:45 – The Charles Tendell Show and New Bern Live Partners
57:27 – Special thanks to Toyota of New Bern for being a Title Sponsor for New Bern Live
Please let us know if you'd like to join our Team as a contributor to educate, enrich, entertain, and/or enlighten our audience. It's a win-win-win for everyone. The only requirement is that you agree to contribute an article or video once a month.
Special thanks to Mike Afflerbach, owner of New Bern's News Talk Radio Station WNOS 103.9FM and 1450 for airing the Podcast every Wednesday at 8 a.m. and 5 p.m. Also listen to our New Bern Live partners as their shows also air on WNOS – Charles Tendell Show, Men On Radio Offering Nonsensical Solutions (M.O.R.O.N.S.), and City Talk with Sabrina and Lee.
And of course, Let us know if you'd like to join us as a guest on the Podcast or have any questions, comments or suggestions by calling 252-259-6853 or sending us an email at info@newbernnow.com.
Tune into our latest Podcast episodes on our ITunes and Libsyn Channels. You can also listen to the show on New Bern's News Talk Radio Station 103.9FM and 1450AM. Special thanks to Mike Afflerbach, owner of New Bern's NewsTalk Radio Station for airing our Podcast every Wednesday at 8 a.m. and 5 p.m.
We'll be back on December 3, 2018.
Join the New Bern Live Facebook group to learn about all the different citizen media resources that we have in our community and engage in the conversation.
Please let us know if you have any comments, suggestions, or would like to set up an interview and spread the word about a special event or other interesting topic. Send me an email or give me a call at 252-259-6853.
Wendy Card