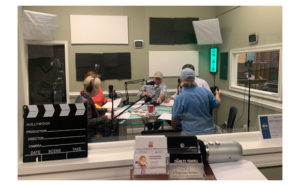 Episode 104
Find out the latest "positive" news and information about our beautiful and happening town of New Bern and Beyond. Beyond, meaning our travels throughout Eastern North Carolina!
During this show, New Bern Now's Podsquad: Rich Sheridan (Crystal Coast Discovery Map), Kathy Morrison (New Bern Historical Society), Colleen Roberts (City of New Bern), George Oliver (Oliver & Cheek, PLLC), Charles Tendell (Charles Tendell Show), and I talked about all kinds of positive things happening in our community on location in the Charles Tendell Studio located inside the O'Marks Bldg., 233 Middle Street Suite 107 in Downtown New Bern!
We were joined by Virginia Spencer, Billie Ruth Sudduth, Dobert Owsley, Ron Perez, Jacqueline Wu, Angela Bryd, and Neil Oliver.
This podcast is Sponsored by Kaitlyn Johnson, owner of Salon #9. "At salon #9 we believe in a sustainable beauty environment and all services are administered with Eufora International products. Our staff receives continuing education for inspiration and growth. We strive to provide a relaxing environment with unsurpassed customer service. Visit Salon #9 at 1425 S. Glenburnie Rd. or call 252-772-3663.
Listen here:

Show notes:
1:18 – Catching up with the Podsquad
2:25 – Billie Ruth Sudduth and Virginia Spencer talk about Billie Ruth's one of a kind baskets available at Carolina Creations
9:42 – The Law Offices of Oliver & Cheek are helping people litigate with their insurance companies and answer hurricane related law issues
14:01 – FEMA and the Small Business Administration interview with Angela Bryd and Jacqueline Wu.
26:39 – Call for Attorneys to volunteer time at the Disaster Recovery Centers to answer questions
27:03 – Ron Perez and Dobert Owsley joined us to talk about upcoming events benefiting Veterans
34:47 – Strung Together performances and Holiday Album
37:32 – Neil Oliver, owner of Total Openings and Director of My Fair Lady
42:52 – Renting Parking Spaces
43:15 – Radio Lab featured New Bern's Bears
44:27 – New Bern Historical Society presents the Lore Lecture with Scott Mason, the Tar Heel Traveler and Gingerbread Houses
47:21 – Staytrippin' in and around New Bern
– Coastal Women's Forum for Dinner with Guest Speaker Leann Wilson
– ArtWalk – New Bern
– "Shadows at War" Book Signing by Kenneth L. Capps
– 4th Annual New Bern Bacon & Brew Festival
– 3rd Annual Rockin' for Relief for The Homeless Veterans
– Veterans Entrepreneurship Opportunities Dinner Seminar
– Mid-week Attitude Tune Up with Alisa Mike
– Caffeinated Soul Boogie Live
– 2018 Craig Brake Memorial Colors 4 Cancer 10K/5K/1M
– At The Gallery: Carly Simon performed by Marron Chaplin
– Auditions for Miss Evers Boys
– Auditions for Disney's Aladdin, Jr.
– Behind the Scenes: Costume Shop
– Veterans Day at Tryon Palace
– Palace Pours: Pumpkins & Pies
– Lunch and Learn: Decorating Through the Ages
– Behind the Scenes: Conservation Lab
54:01 – Daytrippin'
– Mistletoe Magic Holiday Gift Show
– Crystal Coast Shrine Run
– Hungry Town Tours
Please let us know if you'd like to join our Team as a contributor to educate, enrich, entertain, and/or enlighten our audience. It's a win-win-win for everyone. The only requirement is that you agree to contribute an article or video once a month.
Special thanks to Mike Afflerbach, owner of New Bern's News Talk Radio Station WNOS 103.9FM and 1450 for airing the Podcast every Wednesday at 8 a.m. and 5 p.m. Also listen to our New Bern Live partners as their shows also air on WNOS – Charles Tendell Show, Men On Radio Offering Nonsensical Solutions (M.O.R.O.N.S.), and City Talk with Sabrina and Lee.
And of course, let us know if you'd like to join us as a guest on the Podcast or have any questions, comments or suggestions by calling 252-259-6853 or sending us an email at info@newbernnow.com.
Tune into our latest Podcast episodes on our ITunes and Libsyn Channels. You can also listen to the show on New Bern's News Talk Radio Station 103.9FM and 1450AM. Special thanks to Mike Afflerbach, owner of New Bern's NewsTalk Radio Station for airing our Podcast every Wednesday at 8 a.m. and 5 p.m.
We'll be back on November 19, 2018.
Join the New Bern Live Facebook group to learn about all the different citizen media resources that we have in our community and engage in the conversation.
Please let us know if you have any comments, suggestions, or would like to set up an interview and spread the word about a special event or other interesting topic. Send me an email or give me a call at 252-259-6853.
Wendy Card