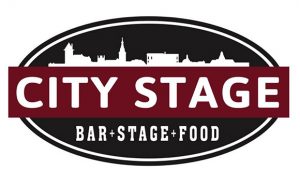 Tuesdays in November Jim Kohler and friends, 7 – 9 p.m. With a unique style all his own, Jim Kohler is one of the last true blues players. Having played for over 20 years with blues legends, Jim has created a killer sound that everyone will enjoy! No Cover charge.
Wednesdays in November – Pub Trivia, 7 p.m. City Stage will present Pub Trivia every Wednesday night. Come and test your Trivia skills for an opportunity to win great prizes and have fun with friends! It's all about bringing people together! Our Kitchen and Bar will have some tasty offerings to compliment the evening. No Cover charge,
Wednesdays in November – City Stage Karaoke, 9 – 11 p.m. Brush up your vocal skills and get ready to take center stage! Everyone is a star at City Stage! Bring your friends for a night of fun with the coolest folks around! No Cover charge.
Thursdays in November – Evening Serenade with Alisa Mike, 7 p.m. Every Thursday through the month of November, popular local singer Alisa Mike serenades us with jazz standards from the Great American Songbook, as well as other classics through the years and ones in the making. Her dynamic vocal range, artistic phrasing and interaction with the audience make for a delightful evening! No Cover charge – Artist Donations Encouraged. Table reservations are recommended. 252.631.5122
Fridays, November 2nd and November 23rd: Dueling Pianos, doors opent at 5 p.m. Join Tony Basford and friends as they make you laugh, sing and dance the night away. Premium seats fill up fast for this amazing show so come early! $5 Cover charge.
Friday, November 16th: Stand up Comedy Showcase with Matt White and Friends, 7 p.m. Winner of the "2012 Port City Top Comic" and 2013 "Carolina's Funniest Comic", Matt White's brand of observational humor mixed with improv and theatre elements engages audiences and leaves them giggling for days. Join Matt and friends for an evening of laughter and fun. $8 Cover charge  .
Saturday, November 17th: Madame Z's November Pride, 8 p.m. – 1 a.m. Madame Z and The Pollock Street Drag Divas are back for another unique and unforgettable evening of Fun! It's an evening you don't want to miss! The crowd is always diverse and fun loving and the mood is sublime! Cover Charge $8.
Saturday, November 24th: Joe Brown and Friends – A Family Affair, doors open at 5 p.m., showtime: 8 p.m. Join Joe Brown for a heartwarming evening of music, comedy and inspiration. Featuring performances by Joe Brown and the band,, Comedian Johnnie 2cups and special guest appearances from our local music scene. It's a family affair! Tickets $10.
Friday, November 30th: Improv Comedy Night Featuring Walk In Bathtub, 7 p.m. Audience's are part of the show! Give us your suggestions and watch us create hilarious unscripted scenes right before your eyes! This month featuring Walk in Bathtub, New Bern's own Improv Team! Come and explore the hilarious, unpredictable world of Improv comedy. Tickets $7.
City Stage is a Private Club. There is a $1.00 Annual Membership Fee. Under 21 must be accompanied by an Adult.
For more information, visit The City Stage at The City Laundry, 901 Pollock St.
Submitted by: John Van Dyke, The City Stage