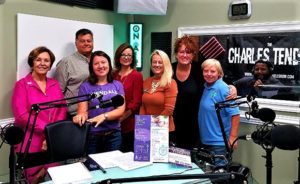 Find out the latest "positive" news and information about our beautiful and happening town of New Bern and Beyond. Beyond, meaning our travels throughout Eastern North Carolina!
During this show, New Bern Now's Podsquad: Rich Sheridan (Crystal Coast Discovery Map), Susan Moffat-Thomas, Colleen Roberts (City of New Bern), Charles Tendell (Charles Tendell Show), and I talked about all kinds of positive things happening in our community on location in the Charles Tendell Studio located inside the O'Marks Bldg., 233 Middle Street Suite 107 in Downtown New Bern!
We were joined by Cheryl McCarthy, Beth Cooper, Charles Cushman, Georgiana Bircher, and Amy Julian.
Listen here:

Show Notes:
00:37 – Catching up with the Podsquad after the Hurricane Hiatus
1:34 – Cheryl McCarthy with Fresh Expressions joined us to talk about Hurricane Florence Relief Efforts, FEMA, Crisis Cleanup, SBA, and Craven County Disaster Recovery Alliance
9:32 – Colleen talks about The City of New Bern's Media requests during Hurricane Florence
13:20 – Stories about evacuating and donation stories
17:10 – Beth Cooper and Charles Cushman joined us to talk about MERCI Clinic and their upcoming event – MERCI on Middle
23:59 – Georgiana Bircher and Amy Julian talk about the rescheduled New Bern Walk to End Alzheimer's Celebration Event
30:11 – Susan's writing a book about New Bern's Renaissance
35:18 – Charles's media coverage during Hurricane Florence and New Bern Live
36:10 – Rich talks about his evacuee experience and return
38:00 – Thankful to have friends like Amy Murphy and others who offered support
38:46 – How disasters affect pets
40:02 – Daytrippin'
– NC Maritime Museum, Ft Macon, and Crystal Coast Attractions
– Fishing Tournaments
– Old Beaufort Farmers Market
– Oyster Roast sponsored by Beaufort Wine and Food
– NC Seafood Festival
– 64th Annual Swansboro Mullet Festival
– Cliffs of the Neuse Activities
46:52 – New Bern Historical Society presents Ghostwalk and Gingerbread House Contest
47:14 – Tryon Civitan Club's Annual Peanut Butter Drive for Religious Community Services
46:08 – Staytrippin' in and around New Bern:
– 18th Annual Halloween Preschool Parade
– Fall Festival at New Bern Christian Academy
– Fall Festival at Broad Creek Christian Church
– Fall Festival 2018 at Christ Church
– Annual Trunk or Treat at Centenary UMC
– Trick or Treat in the Street in Downtown New Bern
– Hocus Pocus Ball with the Lewis n Clark Band
– Hurricane Relief Palooza 2018
– WRNS Run, Witch, Run for St. Jude's
– Halloween Party with the Joe Baes Project and Mari's Hella Fat Food
– Broad Street Open Mic
– The Monster Bash! Halloween Revue and Dance Party for details about all of the events visit CityStageNewBern.com
– HOWLween
– Behind the Scenes: Gardens
– Trunk or Treat at Temple Church
56:15 – Shout outs from New Bern Now's Facebook page
57:10 – Nightmare Factory in Havelock
57:19 – Craven House of Horrors
57:32 – 5th Grade Students from Houston Donate to ENC Relief
59:56 – Staytrippin' Continued
– Governor's Challenge Cornhole Tournament
– My Fair Lady
– FREE Chili Dinner for Hurricane Florence Victims
Please let us know if you'd like to join our Team as a contributor to educate, enrich, entertain, and/or enlighten our audience. It's a win-win-win for everyone. The only requirement is that you agree to contribute an article or video once a month.
Special thanks to Mike Afflerbach, owner of New Bern's News Talk Radio Station WNOS 103.9FM and 1450 for airing the Podcast every Wednesday at 8 a.m. and 5 p.m. Also listen to our New Bern Live partners as their shows also air on WNOS – The Charles Tendell Show, Men On Radio Offering Nonsensical Solutions (M.O.R.O.N.S.), and City Talk with Sabrina and Lee.
And of course, let us know if you'd like to join us as a guest on the Podcast or have any questions, comments or suggestions by calling 252-259-6853 or sending us an email at info@newbernnow.com.
Tune into our latest Podcast episodes on our ITunes and Libsyn Channels. You can also listen to the show on New Bern's News Talk Radio Station 103.9FM and 1450AM. Special thanks to Mike Afflerbach, owner of New Bern's NewsTalk Radio Station for airing our Podcast every Wednesday at 8 a.m. and 5 p.m.
We'll be back on November 5, 2018.
Join the New Bern Live Facebook group to learn about all the different citizen media resources that we have in our community and engage in the conversation.
Please let us know if you have any comments, suggestions, or would like to set up an interview and spread the word about a special event or other interesting topic. Send me an email or give me a call at 252-259-6853.
Wendy Card