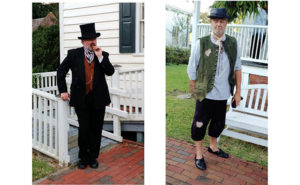 Civil War Hospital Materializes
Grave's Anatomy?  Like Grey's Anatomy, the TV show?  Well, sort of.  You mean Gray's Anatomy, the medical textbook? Well, sort of. The New Bern Historical Society has combined its Ghostwalk format with both of those for this year's Graves' Anatomy.  That means all of the historical spirits who return during Ghostwalk on October 25-27, will be connected in some way with medicine, promising medicine, mystery and mayhem! As you wander through the historic locations, you'll hear from John Lawson in 1710 when European settlers were learning medicinal cures from local Native Americans. Dr. Joseph Latham will appear and tell you about medical treatment in the aftermath of the Great Fire in 1922.  In between will be everything from patent medicines, to the undertaker, including a realistic Civil War Hospital.
The Civil War Hospital, on the grounds of New Bern Academy will take visitors from triage to surgery.  Ghostwalkers are warned, it is very realistic!  Directed by physician and re-enactor, Paul Switzer; and paramedic and re-enactor, Gary Riggs, this display strives to be accurate in its representation with props that will convince you that you are really there.  Serving as patients and solders are re-enactors from the NC 5th
Patrons will find that some of the spectral presentations are humorous, some are serious.  All of them will be entertaining!
Due to the effects of Florence, there are some modifications of the original plan including the addition of both the Blades House and the Mitchell House.  An up-to-date map is available at GhostwalkNewBern.com.
Tickets, good for all three nights, are available on line at www.GhostwalkNewBern.com and at the New Bern Historical Society office at 511 Broad Street in New Bern or at 252-638-8558.  Ticket outlets are listed on the website.
Many of our historic churches will provide ghostly fare, so leave dinner planning to them. We'll have the Tap Snap photo booth for a souvenir photo for all ticketholders, watch for a wonderful theatre preview as well. Keep an eye out for spirits at Cedar Grove Cemetery!
The New Bern Historical Society invites you to come celebrate New Bern and our wonderful history at Ghostwalk. #NewBernStrong is who we are.  Title Sponsors, Chesnutt, Clemmons and Peacock; and CarolinaEast Health System. Media title sponsorship provided by WITN. Additional media sponsorship by Public Radio East.
Submitted by: Kathy Morrison, Public Relations, New Bern Historical Society