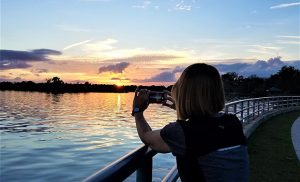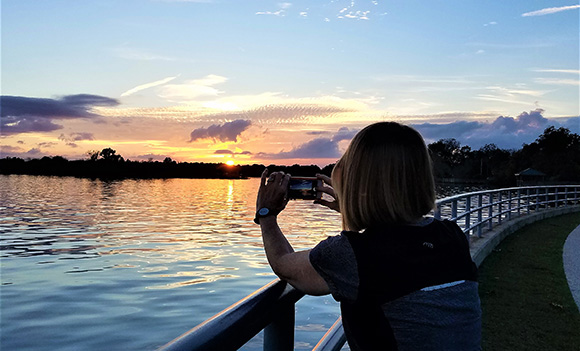 4th: Behind the Scenes: Costume Shop, 2:00 p.m. – 3:00 p.m. at Tryon Palace's Waystation. Call 252-639-3500.
4th: Coastal Women's Forum for Dinner with Virginia Spencer, 5:30 p.m. – 7:00 p.m. at the Chelsea Restaurant.
5th: The Outlook for New Bern's Future, 8:00 a.m. – 1 p.m. at the New Bern Riverfront Convention Center. Presented by Public Media North Carolina CARES and Craven County Community Foundation.
7th: International Film Series: The Divine Order, 2:30 p.m. and 7:30 p.m. in the Orringer Auditorium. Presented by the Lifetime Learning Center at Craven Community College. Call 252-633-2618.
7th: Glow Down in Downtown, 6:00 p.m. – 11:00 p.m. at 403 E. Front St. Call 252-637-3111.
7th – 9th: Peter and the Starcatcher, Fri – Sat: 7:30 p.m.; Sun: 2:00 p.m. at the New Bern Civic Theatre. Call 252-633-0567.
8th – 9th: Bike MS: Historic New Bern Ride at Union Point Park. Call 800-344-4867.
8th: "Chainsaw Carving by Stacey Dover! Music by Barbershop Quartet and our own Luthier, David English! Weaving, Smocking, Knitting & More; Sheep, Goats, and Chicks! Oh, My!", 8:00 a.m. – 2:00 p.m. at the New Bern Farmers Market, 421 S. Front St. Call 252-633-0043.
8th: 4th Annual Dance It Up Purple Zumbathon, 10:00 a.m. – 2:00 p.m. at the Havelock Tourist and Event Center. Call 252-626-3035.
8th: 5th Annual Barn Bash, 5:00 p.m. – 8:00 p.m. at Batten Farm. Proceeds benefit Promise Place. Call 252-365-5780.
8th: Nashville Alt Pop/Rock Recording Artist Salina Solomon Live, 9:00 p.m. at the Brown Pelican. Call 252-631-5008.
For live entertainment and music, check out September Happenings at the City Stage or visit NCMZ.live
*** What would like to know more about during our Week Ahead segment? Do you want to know about local craftsman classes, adult enrichment workshops, golfing, sailing, fishing, local sports, children activities, after school programs, etc.? If so, please contact us below and we'll research your questions. Please know that we respect your privacy, so let us know if you want you want to remain anonymous.
There are also all kinds of things to do in and around town. To name a few, take advantage of over 20 parks and 3 recreation centers maintained by New Bern Parks & Recreation and Craven County Recreation & Parks. Play disc golf at Glenburnie Park and Creekside Park, roller skate at Rollerland, go horseback riding at Equidae Farms (288-9706), or check out the Bear Towne Escape Room.
Visit the New Bern-Craven County Library for free classes, reading programs, movie rentals, etc.
Visit the New Bern Farmers Market and support our farmers, artists, and numerous vendors by shopping local! You'll find fruits, vegetables, plants, baked goods, crafts, numerous handmade items, and more! Hours: Tuesdays from 10 a.m. – 2:00 p.m. and Saturdays from 8:00 a.m. – 2:00 p.m. For details call 252-633-0043.
Watch a movie at the Bear Town Cinema 6 (638-1820).
Take a self-guided walking tour or have locals take you on a tour: Cruise the Neuse Boat Tours (876-7232), Pedi-Bear Tours (649-3839), Scenic Airplane Ride by Tradewind Aviation (636-0716), Tugboat of New Bern Cruises (919-306-5712), and Trolley Tour (637-7316). Call New Bern Tours for more options (637-7316).
Tour the New Bern Civil War Battlefield Park. It's not only for Civil War Buffs, but it's a perfect place to take a walk in the woods (with your dog), picnic, or sit on a bench and watch the wildlife.
Take a walk in the woods in the Croatan National Forest. The forest's habitat has carnivorous plants like the Venus flytrap, pitcher plant, sundew, butterwort, bladderwort among other exotic plants. The Croatan spans approximately 160,000 acres and is located in New Bern's backyard. It's a sanctuary for black bear, deer, wild turkey, quail, coyote, bald eagle, beaver, bobcat, porcupine, American alligator, red-tailed hawk, and other wildlife you may see. For maps and more information, talk to the people at the Croatan National Forest's Ranger's Station on Hwy 70 E (638-5628).
Listen to our latest Podcast to hear more about the latest happenings in New Bern and Beyond:

If you don't have time to listen to the entire episode, click here to see the show notes and listen to parts of the episode.
Please send us your suggestions, comments, or let us know if you'd like to join us during our Podcast to help spread your message! Tell us what you think sending us an email. Visit New Bern Now's Facebook page or sign up for the latest updates by submitting your email address in the right margin on New Bern Now's website.
Wendy Card