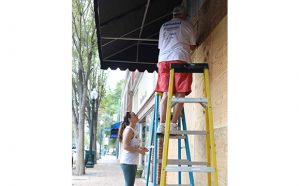 If you're not already in the process of cleaning your house after Hurricane Florence, you probably don't know where to start. Either scenario, I'm sure that your feeling overwhelmed and our hearts go out to you.
Although it's a daunting and laborious job, you can do it. If you need help, don't be too proud to ask. People from all over the Country have come to New Bern and Eastern NC to help.
If you're doing the clean-up yourself, here's a few resources that will hopefully help you:
Before you start, be sure to read the Centers for Disease Control and Prevention's "Flood Water After a Disaster" article to protect yourself and your family. You should also read the, "Homeowner's and Renter's Guide to Mold Cleanup After Disasters".
Here's Local information from FEMA to include applying for Financial Assistance, links to the Hurricane Florence's Resource page, Rumor page, Environmental and Historic Preservation Help Guides, Staying Safe, How to Help After a Disaster, Trusted Information Sources, Applying for Disaster Assistance, Disaster Recovery Centers, SBA Recovery Centers, and other related links.
When starting the cleanup and remediation, here's a terrific resource: "Creating A Healthy Home: A Field Guide for Clean-Up of Flooded Homes".
FEMA also has Fact Sheets with information on "Cleaning Flooded Buildings", "The ABC's of Returning to Flooded Buildings", refer to FEMA's Fact Sheets.
Another great resource is the CDC's "Recommendations for the Cleaning and Remediation of Flood-Contaminated HVAC Systems: A Guide for Building Owners and Managers".
Learn How to Clean and Disinfect Clothes, Shoes, and Laundry Room After Flood on TheSpruce.com's website written by Mary Marlowe Leverette.
A recent article written by Mary H.J. Farrell on Consumer Reports website provides detailed information about saving your cherished items it also provides debris removal guidelines. Another great resource is FEMA's Fact Sheet: Salvaging Water-Damaged Family Valuables and Heirlooms that describes how to save photographs, framed art, books and documents, basketry, fabrics and textiles, wooden furniture, broken pottery and ceramics, metal objects, along with leather and rawhide.
We're working on a list of local resources and organizations who can help you and will be publishing it soon. Please let us know if you have specific questions by calling us at 252-259-6853 or sending us an email and we will try our best to find out the answers.
We're thinking of everyone impacted and hope that you stay safe as you clean up and  rebuild.
Wendy Card