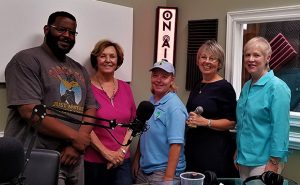 Episode 101
Find out the latest information about our beautiful and happening town of New Bern and Beyond. Beyond, meaning our travels throughout Eastern North Carolina.
During this show, New Bern Now's Podsquad: Susan Moffat-Thomas, Kathy Morrison (New Bern Historical Society), Jane Maulucci (The Reactive Voice), Charles Tendell (The Charles Tendell Show), and I talked about all kinds of positive things happening in our community! We were joined by Catherine Ackerman, Religious Community Services and the Enlisted Spouses Club at MCAS Cherry Point: Roxanna McClearney,
And this podcast is sponsored by the New Bern Post, local news for grown-ups. No cat pictures, no ploys, no gimmicks, no nonsense. Just news about New Bern that is interesting, useful, and important. Check it out at NewBernPost.com"
If you didn't know, The Podsquad meets every other Thursday to record the bulk of the podcast. We also do phone interviews throughout the week and insert the recording into the next podcast.
Listen here:

Show notes:
00:59 – Randy Foster, owner of the New Bern Post, will be partnering with us to create future editions of the Ledger Magazine (next edition Oct – Dec) – send us your announcements to info@newbernnow.com by September 15th
2:03 – Brad Poirier, owner of Bear City Impact, joined New Bern Now's Team as our latest Contributor
3:23 – Interview with Catherine Ackerman, Religious Community Services Volunteer and Special Events Coordinator
10:38 – Coastal Women's Forum Dinner and networking with Speaker Virginia Spencer, owner of Carolina Creations
12:27 – Cherry Point Enlisted Spouses Club from MCAS Cherry Point: Special Advisor Roxy McClearney, Vice President Brittany Cooney, and President Chelsea Ochoa
19:32 – 100th Podcast Award presented to Jane Maulucci
21:01 – The Charles Tendell Studio, New Bern Live, and New Bern's News Talk Radio Station 103.9FM and 1450AM
22:26 – Latest happenings at the New Bern Historical Society
27:38 – Visit from Darlene Jones, Personal Assistant for Sabrina Bengel
29:07 – Podcast Episode Sponsored by the New Bern Post
29:31 – The Scottish Rite Building Focus Group
33:35 – Next Best Thing Consignment Shop
34:36 – Social Media Segment
35:46 – VFW 2514 Poker Run benefiting Veterans
36:50 – 5th Annual "No Child Wet Behind" Diaper Drive
37:40 – Behind the Scenes: Costume Shop
38:02 – New Bern History Tour 5K or 10K
38:12 – "Footloose on the Neuse" Summer Concert Series: Joe Brown Band (Variety)
39:06 – Stanly-Spaight Duel
42:07 – Luau with The Bears
42:20 – International Overdose Day
42:31 – New Bern Community Drum Circle
42:51 – The Outlook for New Bern's Future
43:41 – International Film Series: The Divine Order
44:01 – Glow Down in Downtown
44:21 – Peter and the Starcatcher
44:52 – Interview with Dan Spangler, owner of A Dog's Dream and Co-founder of The Entrepreneur Center of Craven County
47:51 – Bike MS: Historic New Bern Ride
48:17 – Securing the Bag: Resources to help Build a Strong Legacy
48:38 – 4th Annual Dance It Up Purple Zumbathon
49:29 – 5th Annual Barn Bash
49:55 – Small Business Roundtable with Peggy Barnes
50:59 – Daytrippin'
– 49th Annual Coharie Indian Cultural Pow Wow
55:42 – Live Music in and around Town
56:14 – Three Guys Signs
57:25 – The Charles Tendell Studio
Tune into our latest Podcast episodes on our ITunes and Libsyn Channels. You can also listen to the show on New Bern's News Talk Radio Station 103.9FM and 1450AM. Special thanks to Mike Afflerbach, owner of New Bern's News Talk Radio Station WNOS 103.9FM and 1450 for airing the Podcast every Wednesday at 8 a.m. and 5 p.m. Also listen to our New Bern Live partners as their Shows also air on WNOS (Asked and Answered with Chris Ormond, The Charles Tendell Show, Men On Radio Offering Nonsensical Solutions (M.O.R.O.N.S.), and City Talk with Sabrina and Lee.
We'll be back on September 10, 2018.
Please let us know if you have any comments, suggestions, or would like to set up an interview and spread the word about a special event or other interesting topic. Send me an email or give me a call at 252-259-6853.
Wendy Card