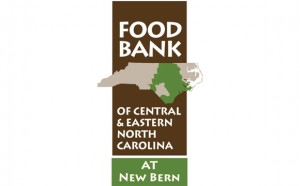 August is Agency Partner Appreciation Month and we are Celebrating our 200 nonprofit network of food pantries, shelters, and social service agencies in the Food Bank's Greenville and New Bern Branch 10-county service area.  New Bern – Monday, August 13th Appreciation Kick-Off Luncheon 11 am – 1 pm; Tuesday, August 14 – Thursday, August 16 – 9 am – 2 pm branch activities.  Greenville – Thursday, August 24th and Friday, August 25 – 10 am – 1 pm light lunch and beverages served.
East Carolina University Get-A-Clue campus-wide event on August 22 will be supported by Greenville-New Bern staff in order to share and educate 30,000 ECU students about community service volunteerism and food drive opportunities at the branches. The Food Bank will be joining with hundreds of local businesses and nonprofits to engage students in learning about the greater Greenville community.
Greenville-New Bern Branches continue to prepare nearly 1,000 CSFP food boxes every month for eligible senior citizens – Food Bank CENC Facebook Post.
2018 The Kitchens of New Bern Tour, September 29 – Get Your Tickets from Greenville Branch or at New Bern Business Locations.
Volunteers Needed: Saturday, September 29th to assist with hosting homes on The Kitchens of New Bern Tour (Tour hours are 9:30 am – 4 pm) – get assigned to one of the homes on the tour by contacting event Co-Chair Jayne McGinn.
Pamlico County Spotlight – Part of the Greenville-New Bern Service Area:
September is Hunger Action Month and we are seeking sponsors to participate in the Hunger Action Month campaign with promotion through multiple channels showcasing our work through radio and digital media. Deadline commitment – August 24, 2018
Next Greenville-New Bern Regional Council Meeting Tuesday, September 11 at 5:30 pm.
2019 Chef's Feast is officially set for May 23, 2019 at Tyron Palace in New Bern.  Regional Council committee is forming and will begin plans to involve top chefs from our region to participate.
Feeding America Conference – During the August 14 – 17, the Greenville-New Bern Eastern Regional Director and staff members from the Raleigh branch will participating in the Feeding America UNITE Conference in Chicago with opportunities to share and learn with food bank representatives from across the country.
Submitted by: George Young, Eastern Regional Director, Food Bank of Central & Eastern North Carolina