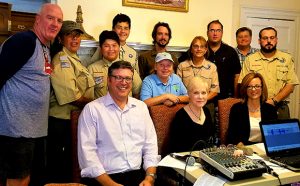 Episode 99
Find out the latest information about our beautiful and happening town of New Bern and Beyond. Beyond, meaning our travels throughout Eastern North Carolina.
During this show, New Bern Now's Podsquad: Rich Sheridan (Crystal Coast Discovery Map), Colleen Roberts (City of New Bern), Kathy Morrison (New Bern Historical Society) George Oliver (Oliver and Cheek, PLLC), and I talked about all kinds of positive things happening in our community! We were joined by special guests, Paul Jr. and Sr., Luis, and Roxana McElearny, Nathan Krouse, Joan Bower, Neuse Basin District Boy Scouts of America; Jonathan Burger, Craven Arts Council; Brad Poirier, Bear City Impact; and Meredith McKee, Director of Much Ado About Nothing. Also, "Weekend Sessions with Tracey Stones" of the NCMZ.live!
Listen to our podcast show here:

If you didn't know, The Podsquad meets every other Thursday to record the bulk of the podcast. We also do phone interviews throughout the week and insert the recording into the next podcast.
This podcast is sponsored by The UPS Store. Stop by The UPS Store for all your packing and shipping needs. Only they have the "pack and ship guarantee". They're Located at 1822 S. Glenburnie Rd. in New Bern and open Monday through Friday 8 a.m. to 6 p.m. and Saturday's 8 a.m. to 4 p.m. For more information, call them at 637-7500 or visit their website at NewBern-NC-2445.TheUPSStoreLocal.com.
Show notes:
00:52 – The UPS Store of New Bern #2445
1:31 – Catching up with The Podsquad
2:05 – Boy Scouts of America – Neuse Basin District
8:07 – Jonathan Burger, Gallery Director and Marketing, Craven Arts Council
16:12 – Brad Poirier, Bear City Impact
23:40 – Meredith McKee, Director of Much Ado About Nothing
29:36 – Ghostwalk 2018 Auditions
30:39 – Jim Hodges: Encore for New Bern Then and Now
31:26 – Eddie Ellis: Tales of Espionage in Civil War Craven County
32:42 – 5th Annual "No Child Wet Behind" Diaper Drive
33:04 – New Bern's National Night Out
36:04– National Intern Day
36:58 – City of New Bern Utilities – School Supply Drive
38:51 – Shopping Trip to the Smithfield Outlets with New Bern Parks and Recreation
39:26 – Daytrippin'
– Morehead City Marlins
– NC Maritime Museum – Kayak to Salt Marsh
– Tryon Palace: Barbour Boatworks, Outlander Series, and Live and Local at the North Carolina History Center
– Strung Together Band at the Mill Whistle during Beaufort Music Festival
45:37 – Heed to Riptide Warnings and Save Lives
47:00 – Weekend Sessions with Tracey Stones
– Professionals Night at The Harvey Mansion
– Beach Music at Blackbeard's Triple Play
– The City Stage Happenings at The City Laundry
– The Brown Pelican Events
– Live Music at BrÜtopia
– Entertainment at The DirtyBird
– The Thirsty Bruin Events
– North Carolina Baroque Orchestra Performance
– Aquapalooza at the Rock Quarry
– Applause for the Cause
55:05 – Upcoming Events
– New Bern Community Drum Circle
– ArtWalk – New Bern
56:43 – Tryon Palace Events:
– Jonkonnu Workshop
– Behind The Scenes: Conservation Lab
– The Lion King – Summer 2018 Children's Movies Series
– "Eco-Beneficial Gardening: Winning the War on Pollinator Decline"
57:47 – New Bern's NewsTalk Radio Station WNOS 103.9FM and 1450AM
58:03 – New Bern Live
Tune into our latest Podcast episodes on our ITunes and Libsyn Channels. You can also listen to the show on New Bern's News Talk Radio Station 103.9FM and 1450AM. Special thanks to Mike Afflerbach, owner of New Bern's NewsTalk Radio Station for airing our Podcast every Wednesday at 8 a.m. and 5 p.m.
We'll be back on August 13, 2018.
Please let us know if you have any comments, suggestions, or would like to set up an interview and spread the word about a special event or other interesting topic. Send me an email or give me a call at 252-259-6853.
Wendy Card