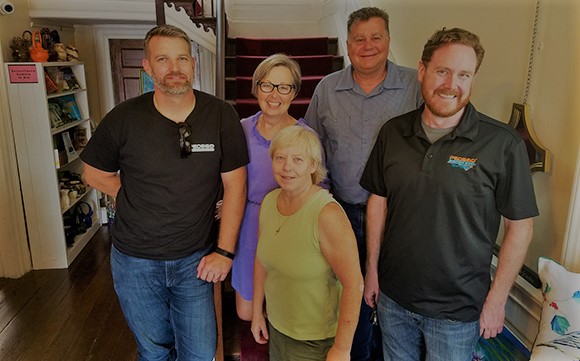 Episode 95
Find out the latest information about our beautiful and happening town of New Bern and Beyond. Beyond, meaning our travels throughout Eastern North Carolina.
During this show, New Bern Now's Podsquad: Jane Maulucci (The Reactive Voice), Rich Sheridan (Crystal Coast Discovery Map), and I talked about all kinds of positive things happening in our community! Sherri LeFever, Candice Parker, Joe Buck, and Matthew McNear joined us as special guests.
Listen to our podcast show here:

If you didn't know, The Podsquad meets every other Thursday to record the bulk of the podcast. We also do phone interviews throughout the week and insert the recording into the next podcast.
This podcast is brought to you by our friend, Peggy Walker Barnes! Peggy is passionate about helping women strategize to simplify their lives and feel more joy. She's a Certified Professional Organizer, Certified Life Coach, and a sought-after speaker. Her work brings clarity to physical, emotional, and mental clutter and her speeches provide encouragement and guidance on clearing your personal closets for the amazing life you really want. Find out how she can help you by visiting her website at PeggyWBarnes.com or give her a call at 670-2951.
Show notes:
00:33 – Catching up with the Podsquad
2:14 – Interview with Sherri LeFever to talk about the Bridgeton Blueberry Festival
7:38 – Coastal Women's Forum Hat Social
8:17 – Interview with Joe Buck and Matthew McNear, Pedego Electric Bikes of New Bern
17:34 – Check out the New Crystal Coast Discovery Map
17:48 – Interview with Candice Parker about the 20thh Annual Run for Shelter presented by the Coastal Women's Shelter
27:20 – Community Artists Gallery and Studios
28:34 – ArtWalk and ArtCrawl
30:27 – Uncorked Wine Tasting
29:08 – Calling all local Musicians for the Ledger Magazine Photo Shoot
30:33 – Uncorked Wine Tasting
30:52 – Bern Summer Blast
31:18 – Patriot Golf Day Fundraiser benefiting the Folds of Honor Foundation
32:02 – Daytrippin'
– World Oceans Day
– Traveling Dinosaur Exhibit
– Outdoor Concert Series
– Live Music at MacDaddy's
– Emerald Fest
– Strung Together Band
34:54 – 2018 Salute to Women of the Military: Her Past and Her Present
36:42 – Upcoming Events
– Jonkonnu Workshops
– Behind The Scenes of the Costume Shop
– Behind the Scenes of the Gardens
– Behind The Scenes of the Conservation Lab
– Nexus Poet's – Poetry Open Mike with Katie Bowler Young
– Dine Out United Pamlico
– Finding Nemo – Summer 2018 Children's Movies Series
– Sunday Serenade with Alisa Mike
– Partners in Education (PIE) Spring Luncheon
– Irish Music Session
– Duct Tape Marketing Seminars
– Trip to the National Museum of African American History and Culture in Washington D.C.
– Lunch and Learn: Fashion and Fabric
– Adam Hill live on The Deck
– "Footloose on the Neuse" Summer Concert Series: Soul Psychedelique,
– Brew Bern Beer and Wine Festival
– Tryon Civitan Club's Charity Auction
– African American Heritage Tour
– Fife & Drum Summer Camp
– Pollinator Week at Tryon Palace
46:23 – New Bern Aquatics Center and George Street Spray Ground
46:40 – New Bern Live
Tune into our latest Podcast episodes on our ITunes and Libsyn Channels. You can also listen to the show on New Bern's News Talk Radio Station 103.9FM and 1450AM. Special thanks to Mike Afflerbach, owner of New Bern's News Talk Radio Station, for airing our entire podcast show every Wednesday at 8am and 5pm.
We'll be back on June 18, 2018.
Special thanks to Mike Lentz and Lisa Bisbee-Lentz for letting us record our Podcast in the Isaac Taylor House!
Please let us know if you have any comments, suggestions, or would like to set up an interview and spread the word about a special event or other interesting topic. Send me an email or give me a call at 252-259-6853.
Wendy Card