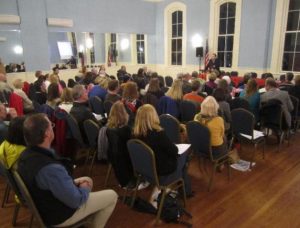 Public schools have difficult challenges just teaching mathematics and language, but subjects such as religion, history and science can be even more of a challenge because of culture clashes that have been steadily growing in the country.
On Tuesday, June 19 at 7 PM, Tami Fitzgerald, Executive Director of NC Values Coalition, will tackle the topic at the monthly public meeting of Coastal Carolina Taxpayers Association (CCTA).  The event will be held at Stanly Hall Ballroom in downtown New Bern.
When it comes to pro-life, pro-family and pro-religious liberty values, Fitzgerald, believes there are some reasons to be concerned about some North Carolina Public Schools.  Fitzgerald campaigned against the use of the children's book Jacob's New Dress, by Ian and Sarah Hoffman.  The book, which tells the story of a young boy who likes to wear dresses, was going to be used in the Charlotte-Mecklenburg Schools system according the New York Times.
"I read the book online", said, Tami Fitzgerald.  'It's clearly geared to young children. The book is meant as a tool of indoctrination to normalize transgender behavior.  I think a lot of parents would object to that."  (Taken from the online site – Christian Today)
Following Fitzgerald's presentation, CCTA will conduct a question and answer period to allow for public participation.  Everyone interested in issues that impact religious freedom and the erosion of traditional values should plan to attend.  The event is free and open to the public.
Fitzgerald has spent a lifetime serving and protecting pro-life, pro-family, and pro-religious liberty values.  Her experience includes more than 24 years as a licensed attorney in North Carolina, Arizona, and Oklahoma as well as Chairwoman of Vote FOR Marriage NC, the official referendum committee that successfully passed the North Carolina Marriage Amendment.
Since 2005, Fitzgerald has been lobbying the North Carolina General Assembly on many faith-based conservative issues, including traditional marriage, pro-life arguments, religious liberty, school choice, and education reform.
About 7 years ago, Fitzgerald says she was moved by the risks posed against the causes of life, family, and liberty by increasingly aggressive liberal activists and an attitude of political correctness.  In response, she created the non-profit organization known as the North Carolina Values Coalition.  Since its inception, Fitzgerald and the NC Values Coalition have been on the front lines of North Carolina's major social and political battles.
The CCTA public meeting will begin at 7 PM in the Stanley Hall Ballroom at 305 Pollock Street, downtown New Bern.  Note, for easy access there is also an elevator entrance at 249 Craven Street.  Refreshments and educational displays are available 30 minutes before the meeting.
Coastal Carolina Taxpayers Association is a 501-C3 nonprofit, non-partisan organization dedicated to lower taxes, smaller government, individual liberties and protection of the US Constitution and the free enterprise system.  Membership in CCTA is open to everyone.
For more information, contact Rick Hopkins – Program Chairman of CCTA at 252-626-3662.
Article written and distributed by Bill Poole, Publicity Chairman for Coastal Carolina Taxpayers Association (CCTA)