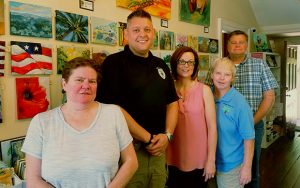 Episode 93
Find out the latest information about our beautiful and happening town of New Bern and Beyond. Beyond, meaning our travels throughout Eastern North Carolina.
During this show, New Bern Now's Podsquad: Rich Sheridan (Crystal Coast Discovery Map), Colleen Roberts (City of New Bern), Laura Johnson (NewBernNow), and I talked about all kinds of positive things happening in our community of New Bern, NC and beyond! Brady Kimrey and Detective Bobby McKone joined us as special guests.
Listen to our podcast show here:

If you didn't know, The Podsquad meets every other Thursday to record the bulk of the podcast. We also do phone interviews throughout the week and insert the recording into the next podcast and if it's a non-profit or event interview, it also airs on New Bern's News Talk Radio Station WNOS 107.5 FM.
This Podcast is sponsored by Mike Lentz, owner of Pollock Street Oyster Bar and Grill, MJ's Raw Bar and Grill, and the Isaac Taylor House.
Show notes:
00:30 – Catching up with the Podsquad
2:43 – Updates from City Hall
9:12 – Laura Johnson is back on the Podsquad
10:16 – NC City/County Communicators Conference in New Bern
11:43 – Chef and Emmy Award Winner Vivian Howard
13:05 – Brad Kimrey with SUP and Running Club
20:12 – New Bern Police Detective Bobby McKone talks about B.E.A.R. Tactical Solutions
35:53 – Interview with Pat Drake about the Tryon Civitan Club's Food Drive for Religious Community Services
37:39 – Visit New Bern Now's Youtube Channel to Watch Videos from our Social Media Summit
38:37 – Behind The Scenes: Tour of the Gardens
38:53 – "Gentle On My Mind: Historical & Humorous Stories About Coastal Carolina" Featuring Mr. Rodney Kemp
39:38 – New Bern Then & Now: Images of "Used to Be" Lunch and Learn
40:07 – Palace Pours: Derby Days
41:08 – The North Carolina Symphony presents Mozart and Medelssohn
41:35 – ArtWalk and ARTcrawl
42:06 –  Uncorked – A Wine Tasting
42:22 – Mother's Day Make-N-Take
43:00 – Dapper Dudes
43:43 – Sweeny Todd
44:16 – Donate a bag of nonperishable food items by your mailbox and your letter carrier will deliver it to Religious Community Services on May 12th
45:02 – Feds Feed Families 5K
45:39 – Family Fun Day
46:06 – Graduation Day: Commencement Ceremony
46:19 – Garden Lecture Series
46:32 – Spring Tea
47:02 – Bar Olympics at BrÜtopia benefiting the North Carolina Special Olympics
47:51 – 2018 Salute to our Veterans
48:07    – Garden Growing Tomatoes Successfully Workshop
48:27 – Coastal Women's Forum Luncheon with Speaker Colleen Roberts
48:42 – Girls Night Out and Networking Social
48:59 – African American Lecture Series: From Segregation to Integration
49:53 – Lunch and Learn: They Mystery of the Officer's Portrait
50:11 – Extreme Laser Light Show and Glow Dance Party
50:36 – Pancake Pursuit 5K & 10K
50:50 – The Pepsi Cup Golf Tournament "Make the Hole, Make a Difference"
51:12 – Basic Pistol Course
51:31 – Bingo Night
51:46 – At The Gallery: Paul Simon performed by John Van Dyke
52:08 – Lanterns on the Lawn: A Family Campout at Tryon Palace
52:35 – African American Heritage Tour
53:02 – Daytrippin' with the Crystal Coastal Discovery Map
– Astronomy – Stargazing at Fort Macon
– 5th Annual Iron Mac
– Behind the Scenes at the North Carolina Aquarium at Pine Knoll Shores
– Down East Folk Arts Society Live Music
– Live Music in Swansboro
– Camp Crystal Kai Health and Wellness Stand Up Paddle boarding Retreat
46:59 – George Street Sprayground and New Bern Aquatic Center
47:50 – 38th Annual Pamlico County Croaker Festival
Tune into our latest Podcast episodes and radio interviews on ITunes. You can also listen to the show on New Bern's NewsTalk Radio Station 103.9FM and 1450AM.
We'll be back on May 21, 2018.
Special thanks to Mike Lentz and Lisa Bisbee-Lentz for letting us record our Podcast in the Isaac Taylor House!
Please let us know if you have any comments, suggestions, or would like to set up an interview and spread the word about a special event or other interesting topic. Send me an email or give me a call at 252-259-6853.
Wendy Card