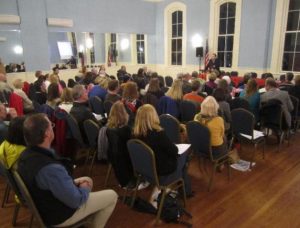 "Back The Blue" is an event created by Coastal Carolina Taxpayers Association (CCTA) to honor the men and women in law enforcement and recognize several outstanding officers from the area.
According Gladys Sussle, committee chair for the event, "Officers from the City of New Bern, Craven County Sheriff's Department, Pamlico County Sheriff's Department, Carteret County Sheriff's Department and Morehead City Police department will be honored individually".  "Superior's from each department will make a brief presentation about the officer being honored, and each honoree will have an opportunity to speak to the audience".
The event is being held at Stanly Hall Ballroom in downtown New Bern beginning at 7 PM.  Doors will open to the public at 6:30 PM and refreshments will be served.  CCTA Chairman, Hal James, encourages citizens from all communities being represented to come out and show support for their local law enforcement.
"Those sworn to serve and protect face real and serious danger as they go about their chosen work".  "Shining a light on many of the positive aspects of our local law enforcement agencies is one thing CCTA can do to show our appreciation", said James.  "We want local law enforcement personnel to know that the majority of citizens recognize and support the good work they do".
This special recognition event is being held as the primary program for the May public meeting of Coastal Carolina Taxpayers Association.  Each month, CCTA offers a different topic or event which is free and open to the public.
The CCTA public meetings occur every third Tuesday of the month.  These always begin at 7 PM in the Stanly Hall Ballroom at 305 Pollock Street, downtown New Bern.  Note, for easy access there is also an elevator entrance at 249 Craven Street.
Regular monthly meetings are conducted in a casual atmosphere.  Refreshments, educational displays, plus an opportunity to meet and greet CCTA members and guests takes place 30 minutes before the official meeting begins.
Coastal Carolina Taxpayers Association is a 501-(c) (3) nonprofit, non-partisan organization dedicated to lower taxes, smaller government, individual liberties and protection of the US Constitution and the free enterprise system.  Membership in CCTA is open to everyone.
For more information, contact Rick Hopkins, Program Chairman of CCTA via email.
Submitted by: Bill Poole, Publicity Chairman for CCTA