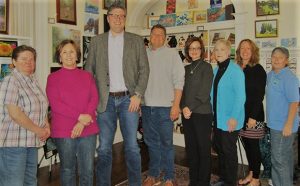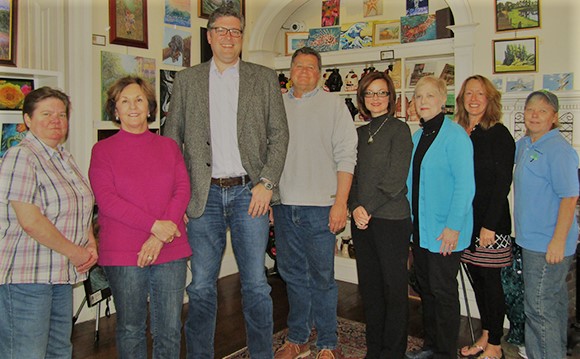 Episode 91
Find out the latest information about our beautiful and happening town of New Bern and Beyond. Beyond, meaning our travels throughout Eastern North Carolina.
During this show, New Bern Now's Podsquad: George Oliver (Oliver and Cheek), Colleen Roberts (City of New Bern), Susan Moffat-Thomas (Adult Enrichment Program), Rich Sheridan (Crystal Coast Discovery Map) and I talked about all kinds of positive things happening in our community of New Bern, NC and beyond! Kathy Morrison with the New Bern Historical Society joined us as a special guest.
Listen to our podcast show here:

If you didn't know, The Podsquad meets every other Thursday to record the bulk of the podcast. We also do phone interviews throughout the week and insert the recording into the next podcast and if it's a non-profit or event interview, it also airs on New Bern's News Talk Radio Station WNOS 107.5 FM.
This Podcast is sponsored by Jane Maulucci, also known as The Reactive Voice. She delivers words that make cents, as in dollars and cents. Find out more by calling Jane at 860-508-1887 or visit TheReactiveVoice.com.
Show notes:
1:15 – Coastal Women's Forum celebrated their 30th Anniversary
2:48 – Board of Alderman will review Conceptual Master Plan for Martin Marietta Park
4:35 – Friends of the New Bern Skate Park
6:43 – City of New Bern 2018 Street Resurfacing Contract
7:39 – City of Atlantic Beach's new Park
8:40 – Kathy Morrison stopped by to share what the New Bern Historical Society is working on
9:41 – Our phone interview with Livingston Taylor and Legends in Concert
18:00 – Encore Presentation: Ordinary Women, Extraordinary Deeds
20:52 – New Bern Then & Now: Images of "Used to Be" Lunch and Learn
23:25 – 8th Annual Praxis Film Festival
27:21 – 32nd NC Pickle Festival
28:48 – Strung Together Band
30:10 – The Harvey Mansion
32:43 – BrÜtopia
33:07 – Dank Burrito
33:49 – Attitudes Pub & Grill, The Brown Pelican and The Bruin
34:05 – Trent River Coffee Company
35:40 – The City Laundry
36:32 – NC Human Trafficking Commission's Regional Symposium
37:28 – Black Light Project to highlight positive images of African-American Men
38:26 – International Film Series: The African Doctor
39:40 – ArtWalk throughout Downtown New Bern and ARTcrawl presented by the Greater Good Gallery
40:22 – Opening Night for Community Artist Gallery
41:03 – Uncorked – A Wine Tasting
41:13 – Music after ArtWalk with Strung Together
41:31 – Tryon Palace's Spring Heritage Plant Sale and Spring Garden Lovers' Weekend
42:33 – Anne of Green Gables
43:41 – 10th Annual East Carolina Pottery Festival
45:00 – KidBiz and Entrepreneur Expo
45:41 – Spring Concert Series: 2nd Marine Aircraft Wing Band presents "Light"
46:14 – Tabernacle OCC Golf Tournament in Memory of Frank Wilson
46:29 – Neuse River Senior Games and Silver Arts
47:42 – Two2sday Market Opens at the New Bern Farmers Market
48:19 – Behind the Scenes: Museum Technology
48:33 – Power of PR and Social Media for Small Business with Speaker Randy Foster of the New Bern Post
49:08 – Juice Joints "A Celebration of North Carolina Spirits" and Juice on the Neuse Wine and Craft Beer Festival
49:51 – Roaring Twenties Casino Night
50:18 – Springfest at the New Bern Farmers Market
50:29 – VEMA New Bern 4th Annual Fallen Officer Memorial Ride,
51:04 – Free Horticultural Workshop ''Edible Landscape' – Summer Vegetables'
51:40 – Epiphany's Spirit of Giving Gala and Auction
52:40 – Adult Enrichment Program Update
53:10 – Daytrippin' with the Crystal Coast Discovery Map
– On Golden Pond
– Free Wine Tasting
– Live Music at the Salt Water Grill
– White Oak River Group Paddle
– NC Aquarium at Pine Knoll Shores – Dino-Might Dinosaur Tour
55:20 – Upcoming Events:
– "Trash or Treasure" Fundraising Flea Market
– Charity Golf Tournament
– At The Gallery: James Taylor performed by the Heather Pierson Trio
– African American Heritage Tour
– 8th Annual Community Fabric Awards
Tune into our latest Podcast episodes and radio interviews on ITunes.
We'll be back on April 23, 2018.
Special thanks to Mike Lentz and Lisa Bisbee-Lentz for letting us record our Podcast in the Isaac Taylor House!
Please let us know if you have any comments, suggestions, or would like to set up an interview and spread the word about a special event or other interesting topic. You can contact us by sending an email or by calling 252-638-6858.
Wendy Card