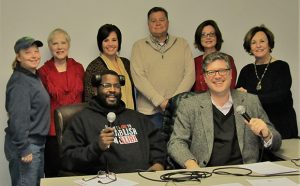 Episode 90
Find out the latest information about our beautiful and happening town of New Bern and Beyond. Beyond, meaning our travels throughout Eastern North Carolina.
During this show, New Bern Now's Podsquad: George Oliver (Oliver and Cheek), Colleen Roberts (City of New Bern), Susan Moffat-Thomas (Adult Enrichment Program), Rich Sheridan (Crystal Coast Discovery Map) and I talked about all kinds of positive things happening in our community of New Bern, NC and beyond! Special guests include: Mary Ann LeRay with Mary Kay Cosmetics; Kathy Morrison with the New Bern Historical Society, and Charles Tendell of The Charles Tendell Show.
Listen to our podcast show here:

If you didn't know, The Podsquad meets every other Thursday to record the bulk of the podcast. We also do phone interviews throughout the week and insert the recording into the next podcast and if it's a non-profit or event interview, it also airs on New Bern's News Talk Radio Station WNOS 107.5 FM and 1450 AM.
This Podcast is sponsored by The Entrepreneur Center of Craven County. "Also known as TEC3, it was created to accelerate the growth of its local entrepreneurial community with the assistance of community leaders and successful entrepreneurs. They want to be the support center, growth encouragers, and co-working space that budding Entrepreneurs in Craven County need for success." For more information, visit them on the 3rd floor of the O'Marks Building at 233 Middle St. (suite 310), call 633-5300, or check out their website: CravenBusiness.com.
Show notes:
01:39 – The Entrepreneur Center of Craven County
1:59 – New Bern Now's 4th Social Media Summit
5:57 – Interview with Mary Ann LeRay – "Lessons Learned"
8:19 – Videos of each Speaker at the Social Media Summit will be published on The City of New Bern's City 3 TV Channel, NewBernNow.com and New Bern Now's Youtube Channel
11:13 – Mary Ann LeRay – The Filling Station in Pollocksville – Nonprofit hub for Craven, Jones and Pamlico Counties; Radio Club, Pollocksville Presbyterian; Satellite of RCS, and revitalization efforts in Jones County.
15:44 – Interview with Kathy Morrison, New Bern Historical Society – Park Day at the New Bern Civil War Battlefield Park; Lunch and Learn, "John Wood Presents: History Stands Around You: The History and Architecture of the New Bern Academy"; and  Legends in Concert: Livingston Taylor with Opening Act Lewis and Clark!
26th: You're an Expert! Write & Deliver a Captivating Speech, 6:30 p.m. – 8:30 p.m. at 4110 Dr. M.L.K. Jr. Blvd. Presented by the Reactive Voice. Call 860-508-1887.
27:22 – Charles Tendell of the Charles Tendell Show, Ethical Hacker, Bitcoins, and New Bern Live
46:30 – "You're an Expert" presented by The Reactive Voice
47:55 – Behind the Scenes: Costume Shop
48:08 – Spaghetti Live
49:20 – The Hot House Quartet
49:50 – Adoption Event with The Guardian Animal Foundation"Easter Hat Dress Up Day" at the New Bern Farmers Market and Colonial Capital Humane Society Photo Fundraiser with the Easter Bunny and Adoption Event
50:51 – Easter Hat Dress up Day at the New Bern Farmer's Market
52:44 – 19th Annual Golf Tournament.
52:58 – Improv Comedy Night
54:48 – City of New Bern Improvements to Oaks Road and flooded area at Jacks Smith Creek and widening road projects
57:19 – The Joe Baes Project Live
57:29 – Crabtree Valley Mall Trip
57:48 – Little Free Library Day
1:02:21 – Gadabout Traveling Film Fest Screening
1:02:47 – Dayrtirppin' with the Crystal Coast Discovery Map
– Easter Egg Hunt at Morehead City and also one at the Beaufort Historic Site
– Free Wine Tasting at the Front Street Village in Beaufort
– Lanterns on the Lawn: A Family Campout
– Spring Garden Lovers Weekend and Heritage Plant Sale
1:05:35 – Upcoming Events
– The Bears Live
– Limited Engagement Live
– NC Human Trafficking Commission's Regional Symposium
– Adult Enrichment Program
1:07:13 – Adult Enrichment Program Update
1:07:45 – Interview with Benny Thompson – "Lord is it I" play at Centenary United Methodist Church
Tune into our latest Podcast episodes and radio interviews on ITunes.
We'll be back on April 9, 2018.
Special thanks to Timothy Downs and The Entrepreneur Center of Craven County for providing a place for us to record!
Please let us know if you have any comments, suggestions, or would like to set up an interview and spread the word about a special event or other interesting topic. You can contact us by sending an email or by calling 252-259-6853.
Wendy Card