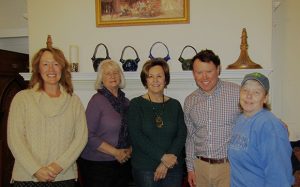 Episode 89
Find out the latest information about our beautiful and happening town of New Bern and Beyond. Beyond, meaning our travels throughout Eastern North Carolina.
During this show, New Bern Now's Podsquad: Lisa Bisbee-Lentz, Susan Moffat-Thomas, Clayton Cheek, and I talked about all kinds of positive things happening in our community of New Bern, NC and beyond! We were joined by special guests, Deedra Durocher and Timothy Downs.
Listen to our podcast show here:

If you didn't know, The Podsquad meets every other Thursday to record the bulk of the podcast. We also do phone interviews throughout the week and insert the recording into the next podcast and if it's a non-profit or event interview, it also airs on New Bern's News Talk Radio Station WNOS 107.5 FM.
This podcast is brought to you by Wit Clothier! Where they have custom and curated clothes for men and women. Visit them in the Stanly House located at 502 Pollock St., call 252-631-5098 or check out their website at WitClothing.com.
Show notes:
1:04 – Catching up with the Podsquad
4:21 – Interview with Deedra Durocher, Volunteer and Resource Coordinator, Habitat for Humanity of Craven County
19:25 – Public Meeting for Martin Marietta Park Master Plan Input
20:31 – Coffee with a Cop
20:50 – Interview with Timothy Downs, Director of Economic Development for Craven County – Employment Resources and Jobs Event
27:59 – Color for A Cause
28:13 – 15th Annual Taste of Coastal Carolina
29:03 – Acoustic Coffee House with Patrick Bliss
28:39 – Third Annual St Patrick's Celebration, 6:00 p.m. – 8:30 p.m. at the North Carolina History Center. Presented by the Rotary Club of New Bern. Call 252-671-2377.
29:47 – St. Paddy's Day Pub Crawl
30:02 – Trivia Night Fundraiser
30:13 – Madagascar Jr,
30:34 – March for Sickle Cell 5K Walk/Run
30:53 – Free Horticultural Workshop 'Warm Season Turfgrass'
32:14 – 2018 Democratic Convention: Craven County Democratic Party
32:28 – Inclusive Easter Egg Hunt
32:49 – Hot Buttered Grits Live
33:16 – New Bern Home and Garden Show
33:37 – ShamRock 2018 with the Joe Baes Project
33:53 – 4th Social Media Summit
37:33 – Arbor Day Celebration
37:49 – 3 Redneck Tenors
38:06 – I Love That Lady Awards and Recognition Banquet
38:20 – New Bern Get Your Color On
38:35 – Girls Night Out and Networking Social
38:54 – 10th Annual Installation of Art at the Airport
39:10 – Johnsmith Live
39:26 – Gem Productions featuring Underground District
39:38 – 2018 Neuse River Bridge Run
39:45 – Easter Eggstravaganza
39:57 – Harry Goodman Battlefield Adventure Day,
40:15 – One Million Goal Charity Concert and Auction
40:41 – At The Gallery: Cy Coleman performed by Andrea Owens, Phil Owens, and Judy Harrison
41:03 – 80s Prom Party
41:15 – Daytrippin' to Emerald Isle and Kenansville
Tune into our latest Podcast episodes and radio interviews on ITunes.
We'll be back on March 26, 2018.
Special thanks to Lisa Bisbee-Lentz and Mike Lentz for letting us record in the Isaac Taylor House!
Please let us know if you have any comments, suggestions, or would like to set up an interview and spread the word about a special event or other interesting topic. You can contact us by sending an email or by calling 252-638-6858.
Wendy Card