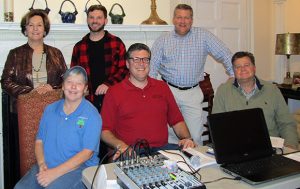 Episode 88
Find out the latest information about our beautiful and happening town of New Bern and Beyond. Beyond, meaning our travels throughout Eastern North Carolina.
During this show, New Bern Now's Podsquad: George Oliver, Susan Moffat-Thomas, Rich Sheridan with Special Guest, Jermey LeRay, and I talked about all kinds of positive things happening in our community of New Bern, NC and beyond!
Listen to our podcast show here:

If you didn't know, The Podsquad meets every other Thursday to record the bulk of the podcast. We also do phone interviews throughout the week and insert the recording into the next podcast and if it's a non-profit or event interview, it also airs on New Bern's News Talk Radio Station WNOS 107.5 FM.
This Podcast is brought to you by The Pollock Street Pub and Oyster Bar. The Steamer bar has oysters, mussels, clams and shrimp and The Kitchen offers soups, subs and panini's. Visit them at 208 Pollock St, call 631-5244, or check out their website at PollockStreetPub.com.
Show Notes:
1:09 – Catching up with The Podsquad
2:10 – Southern Gentlemen Barbershop Chorus
3:23 – Jeremy LeRay and New Bern Web Design
4:03 – Improv Comedy Night featuring Walk in Bathtub
5:48 – Derrick Jordan, Director of Chicago joined us to talk about the show that's presented by RiverTowne Players
13:45 – Julia Tucker with A Dog's Dream
22:41 – Behind the Scenes: Costume Shop Tour
23:07 – Coastal Women's Forum Luncheon with Speaker Julie Mincey
23:31 – Girls Night Out and Networking Social
23:51 – Empty Bowls New Bern presented by the Craven Arts Council and Religious  Community Service
24:30 – Google Your Business at the Small Business Center
25:08 – Hours Special Place presents Mindful Music and Movement Sessions
25:52 – Vintage Thursday with Alisa Mike
26:11 – Interview with Pat Drake about the Tryon Civitan Club Food Drive for The Salvation Army
27:02 – Women Veterans and Active Duty Women Outreach Event
27:31 – Annual Eastern Carolina Aviation Heritage Foundation Gala Rediscover Your Future
27:48 – "African American Firsts"
27:56 – The Wiz at New Bern Civic Theatre
29:40 – Latin Dance Night with Dance Lesson
30:42 – High School Shakespeare Contest presented by The Colonial NC Branch of the English Speaking Union
31:35 – Shakespeare's Fantasy Island Dinner
32:35 – Explore with Von Lewis and Abbey Clark – music of Frank Sinatra and Patsy Cline
33:23 – Daytrippin' with the Crystal Coast Discovery Map
– Gallants Channel Bridge open in Beaufort
– Emerald Isle has a Publix Supermarket
– New Roundabout in Emerald Isle
– Bike Path
– Empty Bowl in Morehead City
– Bryan Mayer performing at the Salt Water Grill
– Mark Gibbs performing at Promise Land Market
– NC Aquarium at Pine Knoll Shores
– NC Maritime Museum in Beaufort
39:42 – New Bern Now's 4th Social Media Summit
42:07 – Adult Enrichment Program Update
44:26 – Upcoming Events
– Dwight Hawkins and The Piedmont Highballers
– Behind the Scenes: The Gardens Tour
– North Carolina State Bee Keepers Association
– International Film Series: Lion
– Attic, Basement, Closet (ABC) Indoor Yard Sale Fundraiser
– Civil War Weekend
Tune into our latest Podcast episodes and radio interviews on ITunes.
We'll be back on March 5, 2018.
Special thanks to Lisa Bisbee-Lentz and Mike Lentz for letting us record in the Isaac Taylor House!
Please let us know if you have any comments, suggestions, or would like to set up an interview and spread the word about a special event or other interesting topic. You can contact us by sending an email or by calling 252-638-6858.
Wendy Card