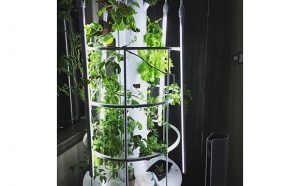 The Wise Women of New Bern invite both men and women to join them Thursday evening, February 15, at 5:30 p.m. to hear Brandon Sutton of Morehead discuss hydroponic gardening for your home. The meeting will be at the Universalist Union, 308 Meadow Street, New Bern.
Mr. Sutton will present the advantages of using and creating hydroponic and aeroponic gardening systems on a residential scale to develop sustainable gardens for the future. The systems he offers can be set up in your home to provide fresh vegetables year 'round.
The Wise Women are like-minded women who share a vision of peace, joy, and community for themselves and the world at large. They meet on Thursdays from 5:30-7:30 at the UU where Jilliana Raymond leads the discussion of the day providing valuable insights for our spiritual and human paths. Guest speakers and members also share their experiences, talents, and wisdom for the benefit of all. For more information email Jilliana.
Submitted by: Jane Maulucci, The Reactive Voice