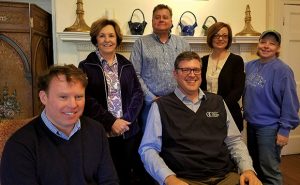 Episode 87
Find out the latest information about our beautiful and happening town of New Bern and Beyond. Beyond, meaning our travels throughout Eastern North Carolina.
During this show, New Bern Now's Podsquad: George Oliver, Colleen Roberts, Susan Moffat-Thomas, Rich Sheridan with Special Guest, Clayton Cheek, and I talked about all kinds of positive things happening in our community of New Bern, NC and beyond!
Listen to our podcast show here:

If you didn't know, The Podsquad meets every other Thursday to record the bulk of the podcast. We also do phone interviews throughout the week and insert the recording into the next podcast and if it's a non-profit or event interview, it also airs on New Bern's News Talk Radio Station WNOS 107.5 FM.
This Podcast is brought to you by The Village Butcher where you'll find delicious fresh, local, and homemade food! Visit them at 3515 Trent Rd., call 637-6695, or check out their website at VillageButcherNewBern.com  and don't forget to ask them about their crockpot Tuesdays!
Show notes:
2:00 – Adult Enrichment Program update
3:12 – Beekeeping
6:43 – Input for the Martin Marietta Park
13:15 – Getting to know Clayton Cheek and learning about his wife, Jody's business, The Village Butcher
17:07 – Daddy Daughter Sweetheart Ball
18:32 – Carolina Colours
18:49 – Tryon Civitan Club's 9th Annual Food Drive for Salvation Army
19:57 – Tryon Palace Behind the Scenes Costume Shop Tour
20:36 – Interview with Lee Purcell, Chairman of the New Bern Antiques Show and Sale
23:03 – International Film Series: Hunt for Wilderpeople
26:16 – 2018 Point-In-Time Count
27:12 – North Carolina Symphony presents Dvořák Serenade for Strings
27:20 – Up from Slavery to Freedom: New Bern's Historic 35th United States Colored Troops
28:33 – Have you been to Tryon Palace?
32:50 – A Night to Remember 2017 Awards Gala
35:11 – Improv Comedy Night
36:43 – Downtown Artwalk and Artcrawl
37:37 – Coastal Photo Club Exhibit
39:07 – "Pieced with Care" Quilt Show
40:43 – The Wiz Musical
41:15 – Interview with Pat Drake about the Tryon Civitan's Flapjack Fundraiser
42:41 – At The Gallery: Kander and Ebb performed by Dora Bullock, Patrick Bliss, and Tim Maddox
43:53 – Daytrippin with the Crystal Coast Discovery Map
– 2018 Beaufort Music Festival Kick-off Party
– Valentine's Sunset River Cruise
– Mardi Gras on Middle Lane
Upcoming Events:
– River Bend Community Organic Garden presents "Roundtable for Gardeners"
– African American Lecture Series: How Free is Free – Civil Right Act of 1866 with Comedian, Timothy A. Shropshire
Tune into our latest Podcast episodes and radio interviews on ITunes.
We'll be back on February 8, 2018.
Special thanks to Lisa Bisbee-Lentz and Mike Lentz for letting us record in the Isaac Taylor House!
Please let us know if you have any comments, suggestions, or would like to set up an interview and spread the word about a special event or other interesting topic. You can contact us by sending an email or by calling 252-638-6858.
Wendy Card