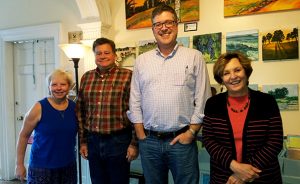 Episode 86
Find out the latest information about our beautiful and happening town of New Bern and Beyond. Beyond, meaning our travels throughout Eastern North Carolina.
During this show, New Bern Now's Podsquad: George Oliver, Susan Moffat-Thomas, Rich Sheridan and I talked about all kinds of positive things happening in our community of New Bern, NC and beyond!
Listen to our podcast show here:

If you didn't know, The Podsquad meets every other Thursday to record the bulk of the podcast. We also do phone interviews throughout the week and insert the recording into the next podcast and if it's a non-profit or event interview, it also airs on New Bern's News Talk Radio Station WNOS 107.5 FM.
Show notes:
00:54 – Catching up with the Podsquad
4:58 – Millissa True stopped by to talk about the 7th Annual Reach for the Stars Gala and Winter Ball
11:09 – Disc Golf
12:27 – African American Lecture Series
13:09 – Tryon Palace Garden Lecture Series
13:48 – Bonnie and Clyde Final Weekend
14:31 – Patrick Bliss Live
14:54 – The Southern Gentlemen Barbershop Chorus presents Singing Valentines
16:47 – Ted Peterson stopped by to tell us about Wit Clothier's Pre-Valentine's "Come Sit Next to Me" Event
24:47 – Free Federal Resume Writing Workshop
25:58 – BBQ in Blue Jeans
26:26 – 7th Annual Harvest Bear Cupcake War
27:20 – USCG Auxiliary Basic Boating Safety Class
27:48 – Polar Plunge Craven County
29:02 – Annual Local Authors Luncheon
29:54 – Rockin' in the New Year Skate Party
30:07 – Lumbee Tribe Cultural Performance by Ryan Dial-Stanly
30:22 – Bridge to Breakdown Live
30:33 – ENC Media's Bridal and Special Event Expo
30:53 – Behind the Scenes: Costume Shop Tour
31:10 – Girls Night Out and Networking Social
31:50 – WinterFeast: Oysters, Brews and Comfort Foods
32:13 – Improv Comedy
34:27 – 2nd Annual Steps to Freedom 5K
34:44 – Sudan Shriners Winter Parade
36:06 – At The Gallery: Stevie Wonder performed by Gabriel Bello
36:36 – Molasses Creek Concert
36:46 – Behind the Scenes: Conservation Lab Tour
37:11 – Adult Enrichment Program Update
37:55 – Fun in the Snow
38:46 – Daytrippin' to the Crystal Coast
41:40 – New Bern Antiques Show and Sale
42:20 – Valentine Card Show and Sale for Craven County Schools
This podcast is brought to you by the Coastal Carolina Regional Airport where they'll get you there! Close, Convenient. Connected. With Direct Flights to Charlotte and Atlanta. For more information, visit them at 200 Terminal Rd., call them at 638-8591 or check out their website FlyEWN.com
Tune into our latest Podcast episodes and radio interviews on ITunes.
We'll be back on January 29, 2018.
Special thanks to Lisa Bisbee-Lentz and Mike Lentz for letting us record in the Isaac Taylor House!
Please let us know if you have any comments, suggestions, or would like to set up an interview and spread the word about a special event or other interesting topic. You can contact us by sending an email or by calling 252-638-6858.
Wendy Card