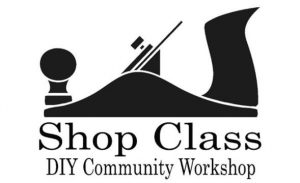 3 weeks, Saturday November 4, 11, & 18, 9:00 a.m. – 1 p.m. (w/minimum 3 registrations, maximum of 8)
Location: 406 Guion Street (the industrial area north of Historic Downtown Neighborhood, between North Craven and George Street)
Registration: $180
Instructor: A. E. "Joe" Clay, Shipwright & Fine Furniture Maker
This three-part workshop class is held in a recently renovated and equipped 1920's warehouse featuring an impressive array of tools.  Novice or woodworkers with limited experience will have the opportunity to hone their woodworking skills and learn how to safely operate machinery and tools.  Upon completion of this three-week course students will be able to plan and execute woodworking projects in their home shop or become a member of Shop Class, a DIY community workshop available on a subscription basis.
Class one includes an introduction, Shop Class's rules (w/liability waiver signing), hands-on walkthrough of the major machinery and a lecture on the nature of wood.  In the remaining two classes, under the supervision of Joe Clay, students use the materials provided (wood, sandpaper, glue and finishing products) to build and finish a laminated cutting board that will be theirs to keep.
For more information or to reserve your workbench, call 252-617-8980.
Submitted by: Maurice Howland, Shop Class, LLC