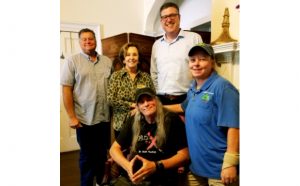 Find out the latest information about our beautiful and happening town of New Bern and Beyond. Beyond, meaning our travels throughout Eastern North Carolina.
During this show, New Bern Now's Podsquad: Susan Moffat-Thomas, Rich Sheridan, George Oliver, and I talked about all kinds of positive things happening in our community of New Bern, NC!
Listen to our podcast show here:

If you didn't know, The Podsquad meets every other Thursday to record the bulk of the podcast. We also do phone interviews throughout the week and insert the recording into the next podcast and if it's a non-profit or event interview, it also airs on New Bern's News Talk Radio Station WNOS 107.5 FM.
Show notes:
00:52 – Lifetime Learning Center at Craven Community College – International Trip to Spain
2:22 – Strung Together Band
2:45 – MERCI on Middle
3:46 – Law Office of Oliver & Cheek retirements and The Entrepreneur Center of Craven County
5:25 – A Brief History of Artists in Eastern North Carolina
6:13 – Interview with Bobby Hurff, Case Worker and Shelter Coordinator for Religious Community Services and Band Member of Peace Soldier Band about the upcoming Rockin' for Relief Benefit Concert for Homeless Veterans and expansion of services at RCS
22:56 – Palace Pours: Pumpkins and Pies
23:38 – Visit to BrÜtopia
24:26 – Ribbon Cutting for Shop Class LLC "DIY Community Workshop
26:50 – Veterans Day "Free" Lunch
27:09 – Vintage Thursday with Alisa Mike
27:36 – Improve Comedy Class
29:01 – Food Truck Rodeo and Vendor Blender
30:20 – Candlelight Vigil & Flower Ceremony – A Community Together
30:30 – Artwalk and Artcrawl
30:51 – Ruth Wyand in Concert
30:59 – AIDA: The Timeless Love Story
32:31 – Veterans Day at Tryon Palace
32:56 – The Fairfield Harbour Harvest Craft Fair
33:07 – Holiday Craft Fair and Vendor Event
33:18 – 2nd Annual Elks Holiday Craft Fair
33:41 – Block Party featuring the Dale Earnhart Jr. Car and a Nascar Simulator
33:57 – Charity Spaghetti Dinner
34:11 – Richard K. Lore Lecture, Jim Bunch, "Recovering the M-4 Enigma Machine, An Oral History,"
34:44 – Free Fall Workshop on Microgreens
35:43 – Girls Night Out and Social Networking Social
36:05 – Live Music with Singer John Van Dyke
36:26 – Lunch and Learn: 'As American As Apple Pie'
36:51 – Tryon Palace Gardens Lecture Series, 10:00am at the North Carolina History Center. Call 252-639-3500.
37:02 – At The Gallery: Rodgers and Hammerstein performed by Lewis N Clark
40:52 – African American Heritage Tour
41:17 – Behind the Scenes: Conservation Lab
40:42 – Twin Rivers YMCA Turkey Trot 5K and 10K
42:24 – Light up the Season "Santa's Arrival" and A Beary Merry Christmas
45:42 – Day Trippin'
Tune into our latest Podcast episodes and radio interviews on ITunes.
We'll be back on November 20, 2017.
Special thanks to Lisa Bisbee-Lentz and Mike Lentz for letting us record in the Isaac Taylor House!
Please let us know if you have any comments, suggestions, or would like to set up an interview and spread the word about a special event or other interesting topic. You can contact us by sending an email or by calling 252-638-6858.
Wendy Card