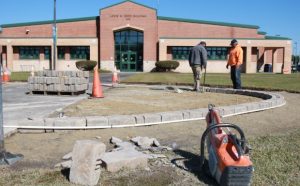 A dedication ceremony for the new Craven Community College Veterans Memorial Park, located on the college's Havelock campus, will be held at 4:30 p.m. Thursday, November 9.
Veterans Memorial Park represents a scholarship fundraising project for Craven Community College (Craven CC) that uses engraved bricks to recognize veterans and active duty personnel. Entitled "Remembering Our Past by Paving Our Future," this fundraising campaign allows individuals, families, companies and organizations to order bricks engraved with specific names or messages and then have those bricks placed in the park.
Proceeds from the fundraising campaign will establish an endowment to support a veteran-affiliated student scholarship fund for curriculum or workforce development students at Craven Community College. Veterans Memorial Park opens Thursday with an initial placement of approximately 200 bricks and nearly $20,000 in funds to establish the endowment.
In addition to the engraved bricks, Veterans Memorial Park includes a stone sitting wall and flagpoles that will represent all five branches of the military, prisoners of war (POW) and those missing in action (MIA).
Additional activities for the opening ceremony include a musical ensemble, playing of the National Anthem, an honor guard representing each branch of the military and POW/MIA service members, a ribbon cutting and service hymns. Special guests include Craven CC President Ray Staats and Marine Corps Maj. Gens. Tom Braaten and Michael Sullivan. Sullivan also serves as chairman for the "Remembering Our Past by Paving our Future" campaign.
The fundraising campaign is an ongoing collaboration among the Havelock campus administration, Collegiate Veterans Association and the Craven Community College Foundation.
New bricks will still be available for purchase after Thursday's dedication at https://www.bricksrus.com/order/cravencommunitycollege/. Bricks are available in three different sizes and will be installed annually or per 100 bricks ordered, whichever happens first.
All events related to Thursday's dedication are free, open to the public and will take place at Craven Community College's Havelock campus, located at 305 Cunningham Boulevard. In the event of rain, Thursday's ceremony will be moved to Thursday, Dec. 7.
For additional information, call the Havelock campus at 252-444-6005.
Submitted by: Craig Ramey, Director of Communications, Craven Community College