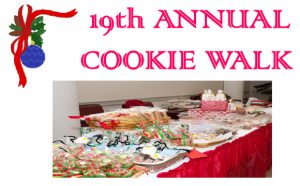 Saturday, December 16 from 10am – 1pm 
Christ Episcopal Church is once again holding the Annual Cookie Walk 311 Middle Street New Bern.
There will be homemade cookies, pastries, pastries, delicious edibles, and other desserts. Enjoy specialty items along with hostess trays for sale. There will also be:
The craft table will display homemade gifts, just in time for Christmas.
Holiday music will be provided by budding young musicians.  Proceeds from this event benefit local charities.
For questions contact Jan Eldred at 708-267-2672.
Submitted by: Jan Elred, Co-Chair, Christ Episcopal Church Cookie Walk