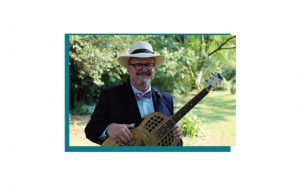 Friday, September 15 at Trent River Coffee Company
Saturday, September 16 at Joslyn Hall, Carteret Community College
Southern folk artist, Jefferson Ross, is a songwriter, singer, guitar slinger and painter, weaving stories for the ears and the eyes. His art is inspired by the sights, sounds, flavors and texture of the American South. Whether portraying a Delta blues master, hillbilly yodeler, Carolina mountain vista or Georgia coast sunset, his work features the rough- hewn, ragged edges of Dixie itself.
Ross says "My music portraits are all painted in various shades of blue. My thinking is; whether an artist is Caucasian, African-American, Native- American or whatever…, it's all about the blues…, the integrity of the music…, not skin color. I have a soft spot for Delta icons like Mississippi John Hurt, Robert Johnson, Muddy Waters and so on but I also love the blues that lives in Country and Folk and Gospel music."
Based in the Peach State, Jefferson travels throughout the US and Europe performing his original music and displays his art at festivals and galleries across the South. An evening with Jefferson Ross is a homespun Southern experience that you're unlikely to forget.
Doors open at 6:30pm and show starts at 7:30pm.
For more information, call 252-646-4657 or visit the Down East Folk Arts Society's website.
Submitted by: Evelyn Richards, Public Relations Chair, Down East Folk Arts Society