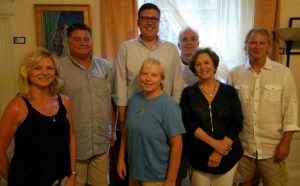 Find out the latest information about our beautiful and happening town of New Bern and Beyond. Beyond, meaning our travels throughout Eastern North Carolina.
Listen to our podcast show here:

During this show, New Bern Now's Podsquad: Susan Moffat-Thomas, Rich Sheridan, George Oliver and I were joined by special guests, Author Bill Furney and his wife Jeannette and Bob Burns, Funeral Director at Pollock-Best Funeral Home.
If you didn't know, The Podsquad meets every other Thursday to record the bulk of the podcast. We also do phone interviews throughout the week and insert the recording into the next podcast and if it's a non-profit or event interview, it also airs on New Bern's News Talk Radio Station WNOS 107.5 FM.
Show notes:
00:41 – Catching up with the Podsquad
3:46 – Pollock Street Oyster Bar and Grill
4:34 – Bill and Jeanette Furney stopped by to talk about Bill's book "Black Heart's White Bones"
10:33 – Civil War Historian Ed Bearss Reflects on the Civil War
12:43 – ArtWalk and Artcrawl throughout Downtown New Bern
19:57 – Bernaroo Music and Arts Festival
13:10 – Acoustic Looping Artist Jeff Miller and Strung Together in Concert
14:47 – Rockin on the Rivers with Nantucket, Molly Hatchet and Bryan Mayer
15:14 – Bob Burns, Funeral Director at Pollock Best Funeral Home stopped by to talk about the importance of planning for the inevitable
31:06 – Events happening Live at the City Laundry
32:06 – Jilliana Raymond Book Signing
32:26 – Summer Family Movie Night at Union Point Park
32:37 – To Kill a Mockingbird at the New Bern Civic Theatre
33:21 – The Sound of Music presented by RiverTowne Players
33:56 – USCG Auxiliary Basic Boating Class
34:49 – Thea's Ideas presents Christmas in July
35:17 – Girls Night Out and Networking Summer Social
35:54 – Jacob Johnson Live at The City Laundry
36:23 – Lunch and Learn: A History of Dogs as Pets
37:59 – Tryon Palace Multicultural Fair
38:07 – Uncommon Chairs Exhibit at the North Carolina History Center
39:18 – East Coast Pepsi Connection – Pepsi Collectors and coming to New Bern to celebrate their 10th anniversary
40:38 – Daytrippin'
– Conservation Wednesday "Blackbeard's Queen Anne's Revenge" at the North Carolina Maritime Museum
– Night of Mystery – Mystery Theatre Event at the North Carolina Aquarium at Pine Knoll Shores
– Nautical Wheeler's Uncorked Wine Tasting
– Free Summer Concerts in Eastern North Carolina
Tune into our latest Podcast episodes and radio interviews on ITunes.
We'll be back on July 24, 2017.
Special thanks to Lisa Bisbee-Lentz and Mike Lentz for letting us record in the Isaac Taylor House!
Please let us know if you have any comments, suggestions, or would like to set up an interview and spread the word about a special event or other interesting topic. We look forward to hearing from you!
You can subscribe to New Bern Now and Beyond by pressing the orange Syndication RSS feed located under the calendar: http://newbernnow.libsyn.com/.
Tell us what you think sending us an email.
Visit NewBernNow.com!
Wendy Card