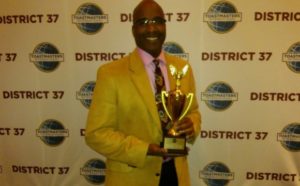 New Bern Toastmasters is proud to announce that long time member, Advanced Communicator Bronze, Daimon King won second place in the District 37 Table Topics Speech Competition held  in Cary, NC on Friday, May 5th. Table Topics is extemporaneous speaking. Contestants must respond to an impromptu question or topic which requires them to quickly organize their thoughts and respond with a short speech. Before qualifying to compete at the state level, King had to compete and win at the club, area and division levels.
"Just getting to the final round of the speech contest was the largest hurdle to overcome. Then, I knew I belonged among the top 10 Table Topics speakers in the state. With that in my mind, the task of competing was made easier and finishing in second place was the evidence that I simply enjoyed the journey!" beamed Daimon King when asked about the competition.
New Bern Toastmasters Club meets every Monday night at 6:30 p.m. at Keller Williams Realty, 1320 McCarthy Blvd, in New Bern.  Guests are always welcome.
Find us on Facebook at: Facebook.com/NewBernToastmasters/.
People join Toastmasters for various reasons. Becoming a member provides a great opportunity to hone speaking skills, overcome fear of public speaking, prepare for job interviews, and develop leadership skills in a supportive and self-paced environment. Toastmasters provides the more seasoned speaker with opportunities to develop special capabilities, to compete on the regional, state and national level, and to participate in the speaker's bureau.
About Toastmasters International
Toastmasters International is a nonprofit educational organization that teaches public speaking and leadership skills through a worldwide network of clubs. Founded in October 1924, the organization currently has more than 280,000 members in 13,500-plus clubs in 116 countries. Each week, Toastmasters helps more than a quarter million people of every ethnicity, education level and profession build their competence in communication so they can gain the confidence to lead others. For information about local Toastmasters clubs, please visit Toastmasters.org. Follow @Toastmasters International on Twitter.
Submitted by: Heather Noto, New Bern Toastmasters