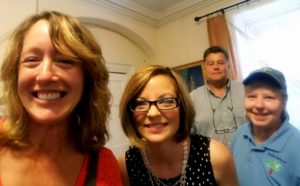 Find out the latest information about our beautiful and happening town of New Bern and Beyond. Beyond, meaning our travels throughout Eastern North Carolina.
Listen to our podcast show here:

During this show, New Bern Now's Podsquad: Rich Sheridan, Lisa Bisbee-Lentz, Colleen Roberts and I highlighted numerous businesses and non-profits in and around New Bern!
If you didn't know, The Podsquad meets every other Thursday to record the bulk of the podcast. We also do phone interviews throughout the week and insert the recording into the next podcast and if it's a non-profit or event interview, it also airs on New Bern's News Talk Radio Station WNOS 107.5 FM.
Show notes:
1:22 – Wendy Osserman, Warrior Women Production
6:44 – Lovay Singleton, Veterans Organic Garden, Pig Pickin', and Veteran's Standdown Event
13:28 – New Bern Now's Mascot Finn and Pet Adoption
14:27 – Dog Day Play, Boarding, Grooming, and Training
15:44 – Craven Animal Hospital's new location
16:11 – Emergency Pet Hospital in Havelock
17:01 – Critter Control
19:02 – Trutech Wildlife Removal Services
19:14 – Vanceboro Strawberry Festival
20:18 – Market Jam at the New Bern Farmers Market
20:39 – Sunday Baseball at Kafer Park
22:30 – A Brief History Of Artists in Eastern North Carolina
23:41 – Fallen Officer Memorial And Unveiling Of Safety Bear
24:09 – Drum Circle
26:55 – Pollock Street Pub And Oyster Bar
29:09 – Mama Callie's Louisiana Seafood
30:44 – Jekyll And Hyde
31:16 – Catch Me If You Can
32:12 – Craven County Clean Sweep
33:10 – New Concession Stand, Bath House, and improvements at Lawson Creek Park
34:47 – Triple Play Oasis Restaurant at Coastal Carolina Regional Airport
35:22 – Driving Out Domestic Violence Golf Tournament
35:59 – The Complete Book Of Fussing And Nagging
36:30 – Coastal Women's Shelter
36:54 – Craven County Special Olympics Spring Games Track and Field Event
37:25 – City of New Bern Street Closures
40:26 – Rich Sheridan with the Discovery Map Crystal Coast
41:14 – The Palace Pours – The Beers and The Bees
43:36 – Daytrippin' to the Crystal Coast
45:49 – Artcrawl and Artwalk in Downtown New Bern
46:12 – Uncorked Wine Tasting
46:33 – Beethoven And Brahms
47:32 – Interview with Jeremy LeRay about the Edward Teach Youth Sailing Association (ETYSA) Summer Camps
49:46 – Mike Williams, Executive Director, Craven County Habitat for Humanity
50:12 – 5K Fun Run and 1 Mile Walk for Hunger and Kickoff Food Drive
50:38 – Upcoming Events
53:24 – Adult Enrichment Program
Tune into our latest Podcast episodes and radio interviews on ITunes.
We'll be back on May 22, 2017.
Special thanks to Lisa Bisbee-Lentz and Mike Lentz for letting us record in the Isaac Taylor House!
Please let us know if you have any comments, suggestions, or would like to set up an interview and spread the word about a special event or other interesting topic. We look forward to hearing from you!
You can subscribe to New Bern Now and Beyond by pressing the orange Syndication RSS feed located under the calendar: http://newbernnow.libsyn.com/.
Tell us what you think sending us an email.
Visit NewBernNow.com!
Wendy Card