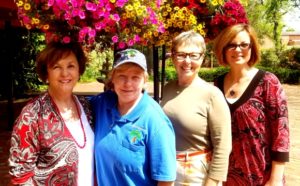 Find out the latest information about our beautiful and happening town of New Bern and Beyond. Beyond, meaning our travels throughout Eastern North Carolina.
Listen to our podcast show here:

During this show, New Bern Now's Podsquad: Susan Moffat-Thomas, Jane Maulucci, Colleen Roberts and I highlighted numerous businesses and non-profits in and around New Bern!
If you didn't know, The Podsquad meets every other Thursday to record the bulk of the podcast. We also do phone interviews throughout the week and insert the recording into the next podcast and if it's a non-profit or event interview, it also airs on New Bern's News Talk Radio Station WNOS 107.5 FM.
Show notes:
1:06 – Barbara Bornemann, Chaplain and Bereavement Coordinator with Continuum Home Health and Hospice
7:33 – New Bern Chamber of Commerce Business Expo
8:12 – Coastal Women's Forum
10:17 – There's always something to do in the greater New Bern area
11:13 – Networking for Professional Women in New Bern
13:28 – Small Business Center at Craven Community College and the Adult Enrichment Program
14:08 – Technology Upgrades for City 3 TV
15:00 – New Bern KOA and all of their amenities
16:14 – Shopping and retail amenities improving in New Bern
17:35 – Thank our Electric Department Worker and join in the fun for Lineman's Rodeo
21:57 – Jane Mauluci, owner of The Reactive Voice presents speaking workshops
25:29 – Please consider adopting a dog or cat from our local shelters.
26:55 – Team New Bern Now finally finished the Downtown Dare… special thanks to George Oliver, Oliver and Cheek, Epiphany School of Global Studies, sponsors, and all of the volunteers!
31:20 – New Bern Now's New Mascot Finn
34:44 – Interview with Neil Oliver of Jekyll and Hyde presented by Rivertowne Players
37:31 – Municipal Service District in Downtown New Bern improvements
39:14 – Electrical Wires underground beautify Downtown New Bern
40:38 – Facade of the New Bern Civic Theatre
41:25 – City 3 TV Public Information and Government Channel
44:37 – Police Memorial Ceremony in conjunction with Dedication of Alexander Thalman Field and the New Scoreboard at Lawson Creek Park
45:36 – The Safety Bear and Police Car will be installed at the New Bern Police Department painted by Lisa Bisbee-Lentz and artist volunteers.
46:11 – Lawson Creek Park
47:34 – Upcoming Events
53:23 – Daytrippin'
56:23 – Adult Enrichment Program Classes
Tune into our latest Podcast episodes and radio interviews on ITunes.
We'll be back on April 27, 2017.
Special thanks to Lisa Bisbee-Lentz and Mike Lentz for letting us record the podcast in the Isaac Taylor House!
Please let us know if you have any comments, suggestions, or would like to set up an interview and spread the word about a special event or other interesting topic. We look forward to hearing from you!
You can subscribe to New Bern Now and Beyond by pressing the orange Syndication RSS feed located under the calendar: http://newbernnow.libsyn.com/.
Tell us what you think sending us an email.
Visit NewBernNow.com!
Wendy Card