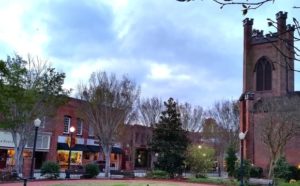 7th: ArtWalk throughout Downtown New Bern, 5:00pm – 8:00pm, presented by the Craven Arts Council at the Bank of the Arts. 252-638-2577.
7th: Uncorked – A Wine Tasting, 5:00pm – 8:00pm at Nautical Wheelers of New Bern. Call 252-514-2553.
7th – 8th: Tryon Palace Spring Heritage Plant Sale, 9:00am – 5:00pm at the Daves House. Call 252-639-3500.
7th – 8th: Spring Historic Homes and Gardens Tour, 10:00am – 4:00pm. Presented by the New Bern Preservation Foundation and the New Bern Historical Society. Call 252-638-8558.
7th – 9th: Garden Lovers Weekend at Tryon Palace. Call 252-639-3500.
8th: Welcome in Spring with a "Wee bit of the Irish", 8:00am – 2:00pm at the New Bern Farmers Market. Call 252-633-0043.
8th: 9th Annual East Carolina Pottery Festival, 9:00am – 5:00pm at the North Carolina History Center. Call 252-639-3500.
8th: Priscilla Shirer Simulcast with Anthony Evans, 9:00am – 5:30pm at Centenary United Methodist Church. Call 252-637-4181.
8th: Advance Care Planning, 9:30am – 11:30am at the New Bern-Craven County Public Library.
8th: Festival of Fun, 10:00am – 3:00pm at Union Point Park. Presented by New Bern Parks and Recreation Call 252-639-2901.
8th: Kids Easter Party, 1:00pm – 3:00pm at the Veterans of Foreign Wars Post 2514, 3850 S. Butler Rd. Call 252-637-9222.
8th: Hoedown Throwdown with Sutter's Gold Streak Band, 3 Day Weekend, and Cuzins, doors open at 5:00pm at the New Bern Riverfront Convention Center. Call 252-637-3111.
8th: Chasing Immortality, 7:00pm – 10:00pm at the Havelock Tourist and Event Center. Presented by Survivor Knights. Call 252-675-2045.
Listen to our latest Podcast to hear more about the latest happenings in New Bern and Beyond:

If you don't have time to listen to the entire episode, click here to see the show notes and listen to parts of the episode.
What are you doing this weekend?
Tell us what you think sending us an email. Visit New Bern Now's Facebook page or sign up for the latest updates by submitting your email address in the right margin on New Bern Now's website.
Wendy Card