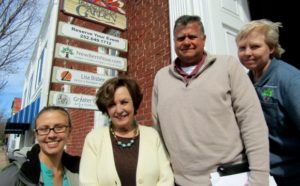 Find out the latest information about our beautiful and happening town of New Bern and Beyond. Beyond, meaning our travels throughout Eastern North Carolina.
Listen to our podcast show here:

During this show, New Bern Now's Podsquad: Rich Sheridan, Susan Moffat-Thomas, Laura Johnson, Special Guest, Rhonda Baker and I, highlighted numerous businesses and non-profits in and around New Bern!
If you didn't know, The Podsquad meets every other Thursday to record the bulk of the podcast. Although, we missed our mid-month Podcast because I was out of town. We also do phone interviews throughout the week and insert the recording into the next podcast and if it's a non-profit or event interview, it also airs on New Bern's News Talk Radio Station WNOS 107.5 FM.
Show notes:
00:34 Rhonda Baker, Outreach Specialist with the Educational Opportunities Center at Craven Community College
3:40 – TRIO Program
10:05 – New Bern Sun Journal 52 Faces
13:48 – Submit your announcements and events for the April – June Ledger Magazine by March 18th
17:37 – Lunch and Learn: Horses to Horsepower with New Bern Fire Chief Bobby Boyd presented by the New Bern Historical Society
18:40 – The Battles for New Berne hosted by Rains Brothers Camp 1370
21:55 – Tchaikovsky's Symphony No. 4 presented by the North Carolina Symphony
23:10 – Artwalk and Artcrawl in Downtown New Bern
23:45 – Where are the Monarchs? Free workshop presented by the River Bend Community Organic Garden and Education Center
24:30 – Sham-Rockin' 2017 St. Patrick's Day Celebration at the North Carolina History Center
25:05 – St Patrick's Day Celebration at The City Laundry
26:15 – Dick Richards Band
27:18 – Bi-Annual Book Sale and the New Bern-Craven County Library
28:51 – Neuse River Bridge Run
30:09 – 2nd Annual Sickle Cell 5K Run/Walk presented by The Neuse-Pamlico Sound Women's Coalition, Inc
30:32 – Taste of Coastal Carolina
31:10 – Adult Enrichment Program and Craven Community College
34:50 – Daytrippin' to the Crystal Coast
42:20 – Upcoming Events
Tune into our latest Podcast episodes and radio interviews on ITunes.
We'll be back on March 20, 2017.
Please let us know if you have any comments, suggestions, or would like to set up an interview and spread the word about a special event or other interesting topic. We look forward to hearing from you!
You can subscribe to New Bern Now and Beyond by pressing the orange Syndication RSS feed located under the calendar: http://newbernnow.libsyn.com/.
Tell us what you think sending us an email.
Visit NewBernNow.com!
Wendy Card