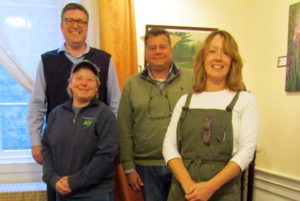 Find out the latest information about our beautiful and happening town of New Bern and Beyond. Beyond, meaning our travels throughout Eastern North Carolina.
Listen to our podcast show here:

During this show, New Bern Now's Podsquad: Rich Sheridan, Lisa Bisbee-Lentz, Laura Johnson, George Oliver of Oliver and Cheek and I, highlighted numerous businesses and non-profits in and around New Bern!
If you didn't know, The Podsquad meets every other Thursday to record the bulk of the podcast. Although, we missed our mid-month Podcast because I was out of town. We also do phone interviews throughout the week and insert the recording into the next podcast and if it's a non-profit or event interview, it also airs on New Bern's News Talk Radio Station WNOS 107.5 FM.
Show notes:
1:05 – Millissa True with the New Bern Grand Marina about The America's Great Loopers Cruisers Association Event
4:49 – Interview with Cheryl J. Brooks, Chair of the Richard Dobbs Spaight Grave Site Preservation Committee, National Society Daughters of the American Revolution
12:35 – Interview with Chris Moore, Eastern Carolina Economic Club (ECEC)
17:53 – Coastal Carolina Substance Abuse Prevention (CCSAP)
19:15 – George Oliver, Bankruptcy and Business Attorney with Oliver and Cheek
20:02 – The Strung Together Band is made up of George and the Oliver Family
25:08 – Interview with January Brown, President of the New Bern Get Your Pink on Committee
26:54 – Fine Art at Baxters presents The Creative Healers Benefit
27:51 – 2nd Annual Downtown Dare Fundraiser for The Open Door Scholarship at The Epiphany School of Global Students…it's a New Bern version of "The Amazing Race"
32:57 – Fuller's Music
33:15 – New Bern Community Drum Circle
38:09 – Interview with Cheryl Reed, Publicity Chair for April's Child Abuse Prevention Month presented by the Community Coalition for Craven County Children
40:34 – April Artcrawl in the Isaac Taylor House and Gardens
41:09 – Art on the Neuse Call for Artists
41:36 – 23rd: "Sally Sutton's Painting Party", 6:30pm – 9:00pm at Francoeur Studio. Presented by Carolina Creations Fine Art and Contemporary Craft Gallery. Call 252-633-4369.
41:56 – The Complete Works of William Shakesphere
42:23 – Down East Folk Arts Festival
42:37 – Once on this Island Jr. at the New Bern Civic Theatre
43:37 – The Great Glow Run benefiting Easter Seals
44:14 – Craven Works
44:59 – Interview with Phyllis Hoffman, Publicity Chair for the Spring Historic Homes and Gardens Tour
47:50 – Daytrippin
50:55 – Upcoming Events
Tune into our latest Podcast episodes and radio interviews on ITunes.
We'll be back on April 3, 2017.
Please let us know if you have any comments, suggestions, or would like to set up an interview and spread the word about a special event or other interesting topic. We look forward to hearing from you!
You can subscribe to New Bern Now and Beyond by pressing the orange Syndication RSS feed located under the calendar: http://newbernnow.libsyn.com/.
Tell us what you think sending us an email.
Visit NewBernNow.com!
Wendy Card