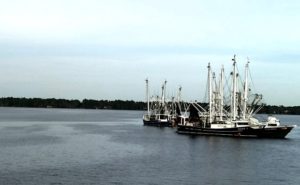 Hear Both Sides Regarding Commercial Shrimping
NC Marine Fisheries Commission heard another round of public comment in Wilmington on February 15 and 16 regarding the NC Wildlife Petition to enact additional regulations on North Carolina commercial shrimp fishermen.  Just like the hearing in New Bern, both sides told dramatically different stories about what the new regulations would mean for commercial and recreational fishermen.
Since most folks haven't the time to listen to five and a half hours of public comment, Coastal Carolina Taxpayers Association has invited a speaker on both sides of the issue to tell their story in 20 minutes or less, and then take questions.
Jerry Schill, President of the North Carolina Fisheries Association (NCFA) will represent commercial fishermen and Donald Willis, Vice President of North Carolina Coastal Conservation Association and President of the Neuse River Chapter will represent recreational fishermen.
Each will present their side of the argument for or against NC Wildlife Federation Petition for Rulemaking to designate all coastal fishing waters not already classified as nursery areas as special secondary nursery areas; establish clear criteria for the opening of shrimp season; and define the type of gear and how and when gear may be used in the special secondary nursery areas in season.
This meeting is open to the public and will be held at 7 PM on Tuesday, February 21 in Stanly Hall Ballroom downtown New Bern.
The format of this presentation is designed to explain the petition and primary effects from both points of view, allow questions from the audience and give those in attendance an opportunity decide where they stand.
Coastal Conservation Association (CCA) is a non-profit organization comprised of 17 coastal state chapters spanning the Gulf of Mexico, Pacific and Atlantic seaboards.  CCA has been active in virtually every national fisheries debate since 1984.  CCA maintains its strength is drawn from the tens of thousands of recreational saltwater anglers who make up its membership.
Commercial fishermen established the North Carolina Fisheries Association, Inc. (NCFA) in 1952 to serve fishing families by protecting their heritage and promoting seafood.  To achieve this, the association actively lobbies local, state and federal policymakers on behalf of the industry and engages in many outreach and education projects.
Coastal Carolina Taxpayers Association is a 501 (c)3 nonprofit, non-partisan organization dedicated to lower taxes, smaller government, individual liberties and protection of the US Constitution and the free enterprise system.  Membership in CCTA is open to everyone.
The CCTA public meeting will begin at 7 PM in the Stanley Hall Ballroom at 305 Pollock Street, downtown New Bern.  Note, for easy access there is also an elevator entrance at 249 Craven Street.  Refreshments and educational displays are available 30 minutes before the meeting.
For more information, email Randy Siler, Program Chairman of CCTA.
Article written and distributed by Bill Poole, Publicity Chairman for CCTA, 252-671-3252
Submitted by: Bill Poole