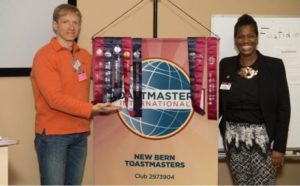 Multi-award winning New Bern Toastmasters will hold their first Open House at their new location on Monday, February 27, 2017, from 6:00 to 8:00 p.m., at Keller Williams Realty, 1320 McCarthy Blvd, New Bern, NC.  All are welcome to attend and encouraged to arrive early to enjoy light refreshments and meet club members.  From 6:30 p.m. to 8:00 p.m., the club will showcase a regular meeting, explaining and demonstrating the various rolls club members fill on a weekly basis.
"Toastmasters is an exciting organization geared at helping people overcome their fear of public speaking and advance their leadership skills." beams club president Latisha Bell. " In the words of our founder, Ralph Smedley, 'Ours is the only organization I know dedicated to the individual, we work together to bring out the best in each of us and then we apply these skills to help others.' If you have a desire to speak more, whether on your job, in your community or in any environment, this is where you can learn how to put your best self forward."
People join Toastmasters for various reasons.  Becoming a member  provides a great opportunity to hone speaking skills, overcome fear of public speaking, prepare for job interviews, and develop leadership skills in a supportive and self-paced environment.  Toastmasters provides the more seasoned speaker with opportunities to develop special capabilities, to compete on the regional, state and national level, and to participate in the speaker's bureau.
New Bern Toastmasters Club meets every Monday night at 6:30 p.m. at Keller Williams Realty, 1320 McCarthy Blvd, in New Bern.  Guests are always welcome.
For more information, contact Margaret Theis, New Bern Toastmasters, VP Membership, 252-474-3630 or find us on Facebook.
About Toastmasters International
Toastmasters International is a nonprofit educational organization that teaches public speaking and leadership skills through a worldwide network of clubs. Founded in October 1924, the organization currently has more than 280,000 members in 13,500-plus clubs in 116 countries. Each week, Toastmasters helps more than a quarter million people of every ethnicity, education level and profession build their competence in communication so they can gain the confidence to lead others. For information about local Toastmasters clubs, please visit Toastmasters.org. Follow @Toastmasters International on Twitter.
Submitted by: Heather Noto, New Bern Toastmasters, Immediate Past President