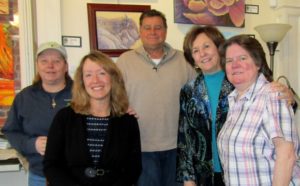 Find out the latest information about our beautiful and happening town of New Bern and Beyond. Beyond, meaning our travels throughout Eastern North Carolina.
Listen to our podcast show here:

During this show, New Bern Now's Podsquad: Laura Johnson, Susan Moffat-Thomas, Rich Sheridan, and I, highlighted numerous businesses and non-profits in and around New Bern!
If you didn't know, The Podsquad meets every other Thursday to record the bulk of the podcast. We also do phone interviews throughout the week and insert the recording into the next podcast and if it's a non-profit or event interview, it also airs on New Bern's News Talk Radio Station WNOS 107.5 FM.
Show Notes:
Show notes:
00:53 – Adult Enrichment Program
2:27 – All About Craven
3:06 – Live cam of Eagles Nest in Florida
3:45 – NC Candid Critters Project
6:15 – Interview with Traci Klein, Chief Operating Officer, True Justice International to learn more about their Freedom Run
8:46 – Bridal Expo
9:11 – Shopping Trip to Crabtree Valley Mall in Raleigh
9:37 – Flipp App for latest sales
11:11 – Tryon Palace Gardens Lecture Series
11:35 – Weekend Events for January 13th: Artwalk, Artcrawl, Moors and McCumber in concert, and Next to Normal
12:01 – BBQ n Blue Jeans and New Bern Fireman's Museum
14:20 – Interview with Lee Purcell, Chair for the New Bern Antique Show and Sale to learn more about the event
16:44 – Vessels with Lids on the Wheel with Leon Nichols
16:32 – Cover photo shoot and Ledger Magazine – 1st Quarter edition
19:44 – People moving to New Bern
21:07 – Praxis Film Festival
25:40 – Daytrippin West from Goldsboro to Kinston – The Chef and Farmer, Boiler Room, The Mother Earth Brewery, The Wood Ducks Minor League Baseball, and the Neuse Sports Shop
28:48 – Remembering Mark Beard
29:25 – Pet Emergency Education Class
30:01 – Dr Martin Luther King Jr Memorial Weekend
30:50 – Interview with Pat Dake, Chair for the Polar Plunge for Craven County Special Olympics and discussion about the Polar Plunge
32:37 – Daytrippin' with Rich Sheridan of the Crystal Coast Discovery Map
Tune into our latest Podcast episodes and radio interviews on ITunes.
We'll be back on January 23.
Please let us know if you have any comments, suggestions, or would like to set up an interview and spread the word about a special event or other interesting topic. We look forward to hearing from you!
You can subscribe to New Bern Now and Beyond by pressing the orange Syndication RSS feed located under the calendar: http://newbernnow.libsyn.com/.
Tell us what you think sending us an email.
Visit NewBernNow.com!
Wendy Card