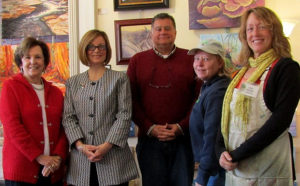 Find out the latest information about our beautiful and happening town of New Bern and Beyond. Beyond, meaning our travels throughout Eastern North Carolina.
Listen to our podcast show here:

During this show, New Bern Now's Podsquad: Susan Moffat-Thomas, Rich Sheridan, Lisa Bisbee-Lentz, Wendy Card, and Special Guest Collen Roberts highlighted numerous businesses and non-profits in and around New Bern!
If you didn't know, The Podsquad meets every other Thursday to record the bulk of the podcast. We also do phone interviews throughout the week and insert the recording into the next podcast and if it's a non-profit or event interview, it also airs on New Bern's News Talk Radio Station WNOS 107.5 FM.
Show Notes:
00:24 – City of New Bern Holidays with Colleen Roberts
2:17 – New Bern Fire and Rescue teams up with the American Red Cross for Blood Drive
2:57 – New Bern Parks and Recreation Classes
4:21 – Adult Coloring to relieve stress
6:21 – Smart Site at Coastal Carolina Regional Airport
6:55 – Ed Bearrs presentation: Reflections on the Civil War
9:11 – The Cub House
11:44 – New Year's Eve Celebrations
14:00 – BBQ in Blue Jeans
14:40 – New Bern Farmers Market
15:07 – Calling New Bern Artists to be on the Cover of New Bern Now's Ledger Magazine
16:10 – ArtWalk and Artcrawl in Downtown New Bern and the importance of Arts in our community
16:25 – City of New Bern working with the C1A – Business Climate Magazine
16:57 – North Carolina of Department of Transportation draft of projects in New Bern
20:37 – Creative Painting with Lisa Bisbee Lentz
21:13 – Adult Enrichment Program at Craven Community College
23:53 – "Into the White" International Film Series at Craven Community College
24:47 – A Brief History of Artists in Eastern North Carolina – reserve your spot today!
25:19 – Down East Folk Arts Society (DEFAS) and Clawson's Restaurant in Beaufort presents Moors and McCumber at the Trent River Coffee Company (TRCC) and discussion about the TRCC and DEFAS.
27:50 – Next to Normal presented by the New Bern Civic Theatre
28:01 – NC Candid Critters: Statewide Citizen Science Camera Trapping Project
30:38 – What is the construction on 17 in Maysville?
32:37 – Daytrippin' with Rich Sheridan of the Crystal Coast Discovery Map
36:27 – Special shout-out to Tryon Palace and the North Carolina History Center, NC Maritime Museum in Beaufort, NC Aquarium at Pine Knoll Shores, and Fort Macon State Park
Tune into our latest Podcast episodes and radio interviews on ITunes.
We're taking a break for Christmas and New Year's and we'll be back on January 5, 2017.
Please let us know if you have any comments, suggestions, or would like to set up an interview and spread the word about a special event or other interesting topic. We look forward to hearing from you!
You can subscribe to New Bern Now and Beyond by pressing the orange Syndication RSS feed located under the calendar: http://newbernnow.libsyn.com/.
Tell us what you think sending us an email.
Visit New Bern Now's Facebook page or sign up for the latest updates by submitting your email address in the right margin on New Bern Now's website.
Wendy Card