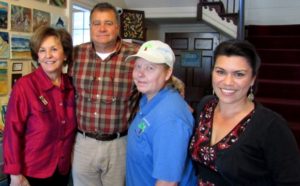 Find out the latest information about our beautiful and happening town of New Bern and Beyond. Beyond, meaning our travels throughout Eastern North Carolina.
Listen to our podcast show here:

During this show, New Bern Now's Podsquad: Susan Moffat-Thomas, Rich Sheridan,  Wendy Card, and Special Guest Angelina Doyle highlighted numerous businesses and non-profits in and around New Bern!
If you didn't know, The Podsquad meets every other Thursday to record the bulk of the podcast. We also do phone interviews throughout the week and insert the recording into the next podcast and if it's a non-profit or event interview, it also airs on New Bern's News Talk Radio Station WNOS 107.5 FM.
Show Notes:
00:50 – The Nutcracker presented by the Down East Dance Theatre
3:35 – The New Bern Civic Theatre, RiverTowne Players, and Theatre in Eastern NC
5:45 – All About Craven Show on CTV 10
8:55 – Riverwalk in Downtown New Bern
11:06 – City of New Bern Workers and Beautification of the 400 Block of Pollock Street
12:03 – New Bern Parks and Recreation Workers
12:20 – 6 Excuses to Avoid Yard work this Fall according to Dani Tinker's article on the NationalWildlifeFederation.org.
14:36 – The New Bern Cub House Restrooms and Information
17:18 – 75th Anniversary of Pearl Harbor "Field of Flags"
17:36 – Candlelight Tours at Tryon Palace
18:10 – December Entrepreneur Center Holiday Event
18:47 – ArtWalk and ArtCrawl
19:43 – Beary Merry Christmas Events
20:03 – Irving Berlin's White Christmas presented by RiverTowne Players
20:51 – Cookie Walk in Christ Episcopal Church's Harrison Center
21:32 – Ugly Christmas Sweater Day at the New Bern Farmers Market
22:35 – The Holly and The Ivy Tour presented by the New Bern Woman's Club
23:04 – A Celtic Christmas with Jennifer Licko Band
23:42 – The Craven Messiah Chorus presents Messiah at Centenary United Methodist Church
24:01 – Pancakes for PIE at Morgan's Tavern and Grill benefits Craven Partners in Education
24:15 – 4th Annual Holiday Hustle 10K Run and 5K Run/Walk presented by Craven Smart Start
25:21- Sledding, Shopping and RCS Food Drive
25:37 – The Christmas spirit in New Bern
26:39 – Adult Enrichment Program at Craven Community College
27:51 – The Holiday Pops presented by the North Carolina Symphony
27:59 – 5th Annual Canterbury Christmas Light Drive hosted by Flythe's Bike Shop
29:19 – Irish Music Session at Trent River Coffee Company
30:03 – Copyright and Intellectual Property information from Attorney Angela Doughty of Ward and Smith "Copyright Myth: If I give credit or tell someone where I got the it or I cite the website and they can link back to it, that's not a problem. That is NOT true. This includes images, sounds, videos, and text. You can be sued". Watch the video on NewBernNow's Youtube Channel.
33:57 – Daytrippin' with Rich Sheridan of the Crystal Coast Discovery Map
37:24 – The North Carolina Aquarium at Pine Knoll Shores
39:49 – Shop Local and Christmas Gift ideas
Tune into our latest Podcast episodes and radio interviews on ITunes.
We'll be back on December 19, 2016.
Please let us know if you have any comments, suggestions, or would like to set up an interview and spread the word about a special event or other interesting topic. We look forward to hearing from you!
You can subscribe to New Bern Now and Beyond by pressing the orange Syndication RSS feed located under the calendar: http://newbernnow.libsyn.com/.
Tell us what you think sending us an email.
Visit New Bern Now's Facebook page or sign up for the latest updates by submitting your email address in the right margin on New Bern Now's website.
Wendy Card