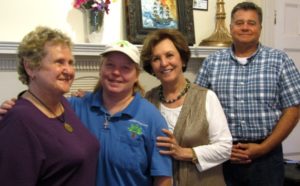 Find out the latest information about our beautiful and happening town of New Bern and Beyond. Beyond, meaning our travels throughout Eastern North Carolina.
Listen to our podcast show here:

During this show, New Bern Now's Podsquad: Susan Moffat-Thomas, Rich Sheridan, Laura Johnson, Lisa Bisbee-Lentz, Wendy Card, and Special Guest Penny Zibula highlighted numerous businesses and non-profits in and around New Bern!
If you didn't know, The Podsquad meets every other Thursday to record the bulk of the podcast. We also do phone interviews throughout the week and insert the recording into the next podcast and if it's a non-profit or event interview, it also airs on New Bern's News Talk Radio Station WNOS 107.5 FM.
Show Notes:
1:05 – Take a Trip to Israel with Penny Zibula, owner of Six Legs Will Travel
3:58 – Molly Fralick recently transitioned from the Army and is the new owner of Life Styled by
5:00 – Coats for Kids Coat Drive presented by Flemming Chiropractic and Wellness Center
5:14 – Tryon Palace and the North Carolina History Center – Events and Happenings
7:38 – MumFest 2016
8:01 – Veterans Day
9:40 – ArtCrawl and Artwalk in Downtown New Bern
10:03 – 2nd Annual Bacon and Brew Fest
10:20 – Interview with Duane Reynolds, Chief Executive Officer of the Coastal Carolina Boys and Girls Club and Dre'Nicks New Bern Area Director of the Boys and Girls Club
13:39 – Interview with Pete Frey, owner of Brewery 99
19:05 – Adult Enrichment Program at Craven Community College
20:52 – Weyerhaeuser's Cool Springs Environmental Education Center
22:48 – Daytrippin with Rich Sheridan, owner of the Crystal Coast Discovery Map
26:38 – Social Media Summit after thoughts and videos on New Bern Now's Youtube Channel
35:55 – Upcoming Events
Tune into our latest Podcast episodes and radio interviews on ITunes.
We'll be back on November 21, 2016.
Please let us know if you have any comments, suggestions, or would like to set up an interview and spread the word about a special event or other interesting topic. We look forward to hearing from you!
You can subscribe to New Bern Now and Beyond by pressing the orange Syndication RSS feed located under the calendar: http://newbernnow.libsyn.com/.
Tell us what you think by sending us an email or calling 252-638-6858. VisitNewBernNow.com or New Bern Now's Facebook page or sign up for daily updates by submitting your email address in the right margin on New Bern Now's website.
Wendy Card