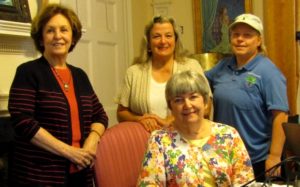 Find out the latest information about our beautiful and happening town of New Bern and Beyond. Beyond, meaning our travels throughout Eastern North Carolina.
Listen to our podcast show here:

During this show, New Bern Now's Podsquad: Susan Moffat-Thomas, Rich Sheridan, Laura Johnson, Lisa Bisbee-Lentz, Wendy Card, and Special Guests Dona Baker of Masterful Dog Training and Susan Braaten highlighted numerous businesses and non-profits in and around New Bern!
If you didn't know, The Podsquad meets every other Thursday to record the bulk of the podcast. We also do phone interviews throughout the week and insert the recording into the next podcast and if it's a non-profit or event interview, it also airs on New Bern's News Talk Radio Station WNOS 107.5 FM.
Show Notes:
00:04 – Intro and talking about a variety of topics
4:40 – Toys for Tots presented by New Bern Parks and Recreation, the US Marine Corps, and various locations throughout Eastern NC
5:51 – Coats for Kids Coat Drive presented by Flemming Chiropractic and Wellness Center
6:10 – New Bern Breakfast Rotary Club fundraiser drive for Childrens shoes
6:37 – CCHC Atlantic Neurology fundraiser drive for warm clothes
6:59 – Salvation Army Kettle Fundraiser
7:24 – Operation Jammies for the Coastal Women's Shelter
7:41 – Harley Davidson of New Bern's Annual Fundraiser Motorcycle Run to the Kennedy Children's Home in Kinston
8:40 – New Bern Elk's Lodge 764 provides Christmas presents to residents of the Veterans Home in Kinston
9:14 – Coastal Carolina Boys and Girls Club fundraiser to ensure every one of the children receive a Christmas gift
9:29 – New Bern Civitan Club's Annual Live Christmas Tree, Wreath, and Peanut Sale
10:23 – The Low Income Energy Assistance Program presented by the Craven County Department of Social Services
11:42 – The People of New Bern and Craven County
12:19 – Adult Enrichment Program update at Craven Community College
13:20 – Susan Braaten Classes – Mastering your I-Pad and I-Phone
17:36 – Ben Watford talks about "A Brief Book of the History of Artists in Eastern North Carolina"
22:51 – Trent Woods Garden Club Art Program with Oaks Road School part of Gloria Morello Project
24:04 – New Bern Christmas Flotilla and Beary Merry Christmas
28:05 – New Bern Yacht Club
30:04 – Reminiscing about Christmas pasts and the resilient people of New Bern
31:43 – Dona Baker's Masterful Dog Training Classes and New Leash on Life Program at Craven Correctional Institution
36:10 – Interview with Jane Maulucci, The Reactive Voice and President of the Coastal Women's Forum. Find out about their President's Charity – The Craven Literacy Council
39:15 – Daytrippin with Rich Sheridan, owner of the Crystal Coast Discovery Map
44:14 – Upcoming Events
Tune into our latest Podcast episodes and radio interviews on ITunes.
We'll be back on December 5, 2016.
Please let us know if you have any comments, suggestions, or would like to set up an interview and spread the word about a special event or other interesting topic. We look forward to hearing from you!
You can subscribe to New Bern Now and Beyond by pressing the orange Syndication RSS feed located under the calendar: http://newbernnow.libsyn.com/.
Tell us what you think by sending us an email or calling 252-638-6858. VisitNewBernNow.com or New Bern Now's Facebook page or sign up for daily updates by submitting your email address in the right margin on New Bern Now's website.
Wendy Card