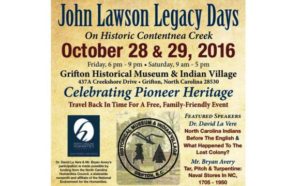 Celebrating Pioneer Heritage As We Travel Back In Time for A Free, Family-Friendly Event!
Grifton, Pitt County, NC:  The sixth annual John Lawson Legacy Days Event will be held on Friday, October 28th, and Saturday, October 29th, 2016 at the Grifton Historical Museum and Indian Village, 437A Creekshore Drive in Grifton, Pitt County, North Carolina.  This year's theme is "Celebrating Pioneer Heritage" and the public is invited to join us as we travel back in time for a free, family-friendly event.
English explorer and author, John Lawson (~1674-1711) was a key player along with others leading up to and during the The Tuscarora War (1711-1715) which was a tumultuous time in Eastern North Carolina history.  It is one of the defining events not only in our local history, but it also influenced the later development of North Carolina.
The free weekend event will begin on Friday, October 28th, from 6 p.m. to 9 p.m. at the Grifton Museum with an open house, tours of the military encampments, viewing the nighttime cannon firing along Contentnea Creek, and more. A beef stew supper is available for $6 per person.
On Saturday, October 29th, the event continues from 9 a.m. to 5 p.m. at the Grifton Museum with the following free activities  available throughout the day: tour the Grifton Museum & Indian Village Re-Creation; see and hear how a Tar Mound is built; see Primitive Technologies demonstrations; tour the military encampments and visit with Colonial and Civil War Re-Enactors; meet Living Historians featuring the Northampton Battery Artillery, the Carolina Living History Guild, a Civil War mortician, and others; see daytime cannon firings; visit exhibitors, crafters, spinners, weavers, basketmakers, potters, blacksmiths, an historical photographer, and soapmakers; see Steamy Gene's Steam Engines; view antique tractors, trucks, pumps, farm displays, and tools; dig in the Aurora Fossil pit; and more!
Three free historical presentations will be featured on Saturday:
9 a.m. – 5 p.m, "Tar, Pitch & Turpentine: Naval Stores In North Carolina, 1705 – 1950" by Mr. Bryan Avery, Civil War re-enactor, living historian, filmmaker, and author.  Mr. Avery will talk about and build a functioning tar mound.
11 a.m., "North Carolina Indians Before The English" by Dr. David La Vere, UNC-Wilmington, Professor of History.
12 Noon, Lunch items available for sale include hot dogs, sausage dogs, butter beans & sausage, drinks, and desserts.
1 p.m., "What Happened To The Lost Colony?" by Dr. David La Vere, UNC-Wilmington, Professor of History,  Native American history lecturer, and author of "The Tuscarora War:  Indians, Settlers & The Fight for Carolina Colonies" book.
Dr. La Vere and Mr. Avery's participation is made possible by funding from the North Carolina Humanities Council, a statewide nonprofit and affiliate of the National Endowment for the Humanities.
We would like to thank our event partners and supporters for making this event possible: HardeeAndHardee.com, Reflector.com, GriftonMuseum.com, Grifton.com, KingsBBQ.com, Suddenlink.com, Carolina Living History Guild, NCHumanities.org, The Brays, ENCFamilies.org, The John Lawson Legacy Days Committee, and others.  We look forward to seeing you at this year's free event in "Celebrating Pioneer Heritage" in Grifton. For more info, please visit JohnLawsonLegacyDays.org or call 252.524.0190.  Submitted by: David French, The Family History Society of Eastern North Carolina