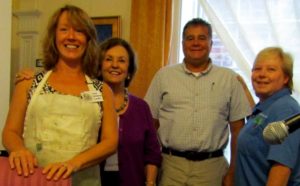 Find out the latest information about our beautiful and happening town of New Bern and Beyond. Beyond, meaning our travels throughout Eastern North Carolina.
Listen to our podcast show here:

During this show, New Bern Now's Podsquad: Rich Sheridan, Lisa Bisbee-Lentz, Susan Moffat-Thomas and I highlighted numerous businesses and non-profits in and around New Bern!
Show Notes:
– 1:01: "Fall for Wine and Chocolate" presented by the Craven Community College Foundation.
– 2:00: Cabaret Noir and events at City Laundry
– 3:19: Celebration of Hope presented by New Bern Get Your Pink On
– 4:15: CarolinaEast Cancer Center, CCHC Cancer Care Center and Journey of Hope Foundation
– 5:39: Brief History of Artists in Eastern North Carolina Book
– 7:20: New Bern Now's 3rd Social Media Summit and Networking After Party
– 11:04: Free Bullyproof Seminar presented by Sugoi Submissions Brazilian Jiu Jitsu
– 11:45: Interview with Pat Drake, Publicity Chair for the Tryon Civitan Club about their 9th Annual Peanut Butter Drive.
– 13:00: MUMFEST 2016
– 17:30: New Bern Farmers Market
– 18:08: Shopping Trip to State Farmers Market
– 18:26: Craven Community College's Lifetime Learning Center Trips and International Film Series
– 19:11: Interview with Jessie Aldrich about the Hope for Harrison Poker Run and Bike Show Fundraiser
– 22:43: Coastal Environmental Partnership Annual Household Hazardous Waste Collection Events
– 23:44: Adult Enrichment Program Classes at Craven Community College
– 27:35: Handbell Musicians of America – Distinctly Bronze East 2016 Concert
– 28:51: Flash Mobs during MUMFEST
– 30:40: Interview with Kathy Morrison with the New Bern Historical Society about their upcoming Lunch and Learn
– 32:47: Nicholas Sparks Book Signing "Two by Two" at Books a Million
– 32:48: ArtCrawl and Arwalk in Downtown New Bern
– 33:14: Fine Art at Baxters Podcast
– 35:00: Havelock Chili Festival
– 34:23: Daytrippin'
– North Carolina Seafood Festival
– Fort Macon
– Shackleford Banks and the Beaufort Maritime Museum
– Swansboro Mullet Festival
Tune into our latest Podcast episodes and radio interviews on ITunes.
We'll be back on October 11, 2016 (One day later than normal due to Columbus Day Weekend)
Please let us know if you have any comments, suggestions, or would like to set up an interview and spread the word about a special event or other interesting topic. We look forward to hearing from you!
You can subscribe to New Bern Now and Beyond by pressing the orange Syndication RSS feed located under the calendar: http://newbernnow.libsyn.com/.
Tell us what you think by sending us an email or calling 252-638-6858. Visit NewBernNow.com or New Bern Now's Facebook page or sign up for daily updates by submitting your email address in the right margin on New Bern Now's website.
Wendy Card