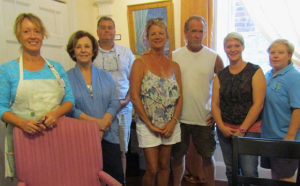 Find out the latest information about our beautiful and happening town of New Bern and Beyond. Beyond, meaning our travels throughout Eastern North Carolina.
Listen to our podcast show here:

During this show, New Bern Now's Podsquad: Rich Sheridan, Lisa Bisbee-Lentz, Susan Moffat-Thomas, Laura Johnson, with Special Guest Breanna Kusnierczyk of Paperless Marketing, and I highlighted numerous businesses and non-profits in and around New Bern!
Show Notes:
00:15 Interview with Captain Dave and First Mate Beth from The Aerie Ferry (soon to be branded as New Bern River Tours)
4:01 – Breanna Kusnierczyk talks about New Bern Paperless Marketing and Snap Chat
6:00 – Marketing, Social Media, Reputation Management and Snapchat
7:32 – 3rd Social Media Summit
8:36 – Interview with Aaron Williams, Director of James and the Giant Peach Jr with Rivertowne Players to learn more about their upcoming children's production
11:27 – Interview with Steven Aster, Coordinator for Craven County Special Olympics to find out about Craven's Got Talent
12:52 – Panther Pitch
14:24 – Adult Enrichment Program Update
16:04 – Interview with Garrett Biss, Speaker and Author of The Sphere's Approach to Happiness and Fulfillment to find out more about his upcoming Event
19:11 – New Bern Historical Society's Free Photo Scanning Event
20:35 – New Bern Battlefield Park
23:10 – New Bern Restoration and Revitalization
24:54 – Daytrippin'
20:01 – Upcoming Events
34:59 – Interview with Pastor MacDonald Bennett with the Spring Hope Free Will Baptist Church about their upcoming Car Show
Tune into our latest Podcast episodes and radio interviews on ITunes.
We'll be back on September 26, 2016.
Please let us know if you have any comments, suggestions, or would like to set up an interview and spread the word about a special event or other interesting topic. We look forward to hearing from you!
You can subscribe to New Bern Now and Beyond by pressing the orange Syndication RSS feed located under the calendar: http://newbernnow.libsyn.com/.
Tell us what you think by sending us an email or calling 252-638-6858. Visit NewBernNow.com or New Bern Now's Facebook page or sign up for daily updates by submitting your email address in the right margin on New Bern Now's website.
Wendy Card