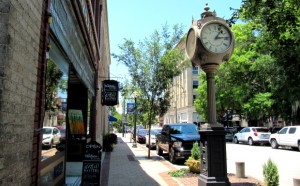 9th: Explorations: The International Film Series: "The Railway Man", 2:30pm and 7:30pm in Craven Community College's Orringer Auditorium. Call 252-633-2618.
9th: ArtWalk throughout Downtown New Bern, 5:00pm – 8:00pm, presented by the Craven Arts Council at the Bank of the Arts. 252-638-2577.
9th: ARTcrawl presented by the Community Artist Will, 5:00pm – 8:00pm at the Center for the Arts, Isaac Taylor House and Gardens, and numerous locations in Downtown New Bern.
9th: Casablanca returns to City Laundry, 8:00pm – 11:00pm at 901 Pollock St. Call 252-675-1889.
9th – 10th: Nine Limbs Strikers Grand Opening Celebration with Free Workshops at 3966 Dr. MLK Blvd. Call 252-259-0618.
10th: Health Fair, 8:30am – 12:00pm in the Trent Court Parking Lot. Call 252-288-6572.
10th: 8th Annual Rhems Volunteer Fire and Rescue Golf Tournament, Shotgun 9:00am at the River Bend Golf and Country Club. Call 252-638-2819.
10th: Girl Scout Kick-Off Party, 10:00am – 11:30am at Number 7 Township Fire Department, 1705 Old Cherry Point Rd. Call 800-284-4475.
10th: Promise Place will host its 3rd Annual Barn Bash Fundraiser with BBQ Dinner, Auctions, and Entertainment. Call 252-636-3381.
10th – 11th: Bike MS: Historic New Bern Ride 2016 at Union Point Park. Presented by the Greater Carolinas Chapter, Call 855-372-1331.
Listen to our latest Podcast episode for details about this weekend's events:

There also all kinds of fun activities to include something to do for all ages!
What are you doing this weekend?
Tell us what you think sending us an email. Visit New Bern Now's Facebook page or sign up for the latest updates by submitting your email address in the right margin on New Bern Now's website.
Wendy Card