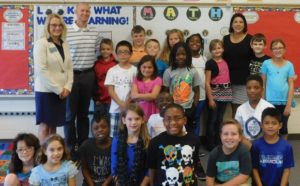 Edward Jones Financial Advisor, Georgiana Bowman Bircher, partnered with Craven County Partners In Education to award a $100 gift card to Matthew McGarry, third grade teacher at Brinson Memorial Elementary.
Mr. McGarry was recognized because he is a super hero to his students!  His classroom radiates with hands on learning and his students work collaboratively in groups throughout the day.  He embeds technology throughout his lessons by having his students create and collaborate with one another by using their chrome books.  His students report that he is the coolest teacher, ever!
The Edward Jones Teacher Recognition Award demonstrates the company's commitment to positively changing the lives of students and families in our community.
The $100 gift card will be used to purchase materials for Mr. Matthews' classroom.  If you would like to learn how your organization can make a difference to a Craven County Schools teacher in the classroom, please contact Darlene Brown, Partners In Education, at 252-514-6321.
Submitted by: Darlene J. Brown, Executive Director, Partners In Education