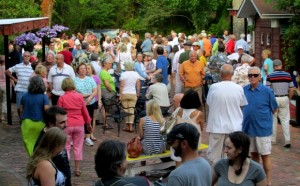 12th: ArtWalk throughout Downtown New Bern, 5:00pm – 8:00pm, presented by the Craven Arts Council at the Bank of the Arts. 252-638-2577.
12th: ARTcrawl presented by the Community Artist Will, 5:00pm – 8:00pm at the Center for the Arts, Isaac Taylor House and Gardens, and numerous locations in Downtown New Bern.
12th: YPG River Jam, 5:00pm – 10:00pm at the New Bern Farmers Market. Call 252-637-3111.
12th: Movies in the Park: Good Dinosaur, 5:00pm at Union Point Park. Presented by Two Rivers Church. Call 252-633-2830.
13th: Antique Automobile Club of America's 2016 Southeastern Fall Meet on the streets of Historic Downtown New Bern.
13th: 2nd Annual Ice Skating in the Park, 10:00am – 8:00pm at Kidsville Playground. Presented by Religious Community Services and the City of New Bern. Call 252-633-2767.
13th: Ribbon Cutting for Chevrolet of New Bern, Lincoln of New Bern, and Volvo Cars of New Bern, 11:00am, 3405 Dr Martin Luther King Jr. Blvd. Presented by the New Bern Area Chamber of Commerce. Call 252-637-3111.
13th: Out & About With Baby: Live, Love, Latch Event, 2:00pm – 5:00pm at Trinity Methodist Church. Presented by La Leche League of New Bern. Call 252-653-6455.
13th: Shrimp Feast with music by Tommy Thomas, 5:00pm – 11:00pm at the New Bern Shrine Club, 2102 S. Glenburnie Rd. Call 252-671-0539.
13th: The Legacy Motown Revue Performance, 7:30pm at Craven Community College's Orringer Auditorium. Call 252-638-2577.
13th – 14th: Civil War Living History Weekend, 10:00am – 4:00pm, New Bern Academy Museum and Tryon Palace Lawns. Call 252-639-3500.
Listen to our latest Podcast episode for details about this weekend's events:

There also all kinds of fun activities to include something to do for all ages!
What are you doing this weekend?
Tell us what you think sending us an email. Visit New Bern Now's Facebook page or sign up for the latest updates by submitting your email address in the right margin on New Bern Now's website.
Wendy Card