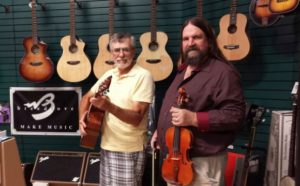 Local songwriters Dale Evans Swan and Simon Spalding join forces to present an evening of original songs and tunes at Trent River Coffee Company in New Bern, on Friday, August 26.
Dale Evans Swan's songs cover a surprising range.  His songs include "Old Smiley Joe", the ballad of a street person, and "Haul Away Boys", a tribute to commercial fishermen.  Dale usually accompanies his voice with guitar.
Simon Spalding's work includes "The Church at the Crossroads" which tells the story of the fire at Bethany Christian Church, and "The Ballad of S.S. Rex", about a California gambling ship.   Simon will play fiddle, mandolin, and banjo.
The program will also include a few instrumentals, such as "Kiss the Sky", a fiddle tune based on Jimi Hendrix's "Purple Haze".
Dale and Simon will include a few songs by songwriters who have influenced them, such as Hudie Ledbetter, Stanley Carter, and Kate Wolf.
The concert is at Trent River Coffee Company, 208 Craven St., New Bern, on Friday August 26.  Tickets are $10, available at the door.  The doors open at 6:00 pm, and the show starts at 7:00.  Both of the performers will offer their CDs for purchase at the concert.  For reservations or more information, call 252-514-2030.
For more on Simon Spalding, check out his website at MusicalHistorian.com.  Further information about Dale Evans Swan can be found at DaleEvansSwan.com.
Submitted by: Simon Spalding